What Is Conservatorship? Understanding Why Britney Spears Is Fighting Her Dad
Britney is in court asking for a new conservator. Here's what all this means.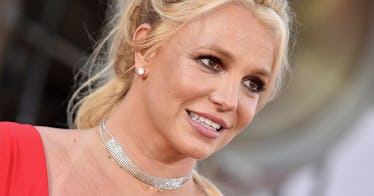 Getty
Britney Spears is in the news again, and not just for her wonderful Instagram posts, floral tops, awesome pool floats, or wacky dances. This time, Britney is in the news because she's back in court. But don't worry, it's not like anything is super wrong or she's having a mental breakdown. Instead, Britney, one of the absolute queens of pop, is in court to ask the state of California to remove her father, Jamie Spears, as the sole conservator of her estate and her finances. Britney is asking for some changes. But what is conservatorship? And is Britney right?
What Is Conservatorship?
Her dad, Jamie, has been a "conservator" of her estate since 2009, when Britney had her major mental breakdown. Basically, he was appointed by a California court to oversee her financial affairs, and potentially other aspects of her life, as she sought to stabilize her life. Conservatorships can be extremely restrictive and can place restrictions on where the conservatee can go, if they can drive, and if they can get married, for example. Spears' conservatorship is particularly harsh — in 2016, the New York Times reported that Britney's Starbucks purchases were monitored by the court under the guise of protecting her fortune, which she earned, but cannot spend freely herself. In 2019, her dad's co-conservator, Andrew M. Wallet resigned, and since then, Spears' father was calling all the shots before his temporary leave due to illness. It has been 11 years since Britney's conservatorship by her father was established. Now, she's looking for changes.
Does Britney Want to End Her Conservatorship?
The short answer here is no. Britney's court filing is not a request to end the conservatorship altogether, although it maintains the right to request to end it in the future. She simply does not want her dad, Jamie, to be her conservator anymore. In January of this year, he temporarily stepped down from the position after suffering with health issues, and the court instated Jodi Montgomery, a professional conservator, as a temporary warden of her estate. She wants to keep Montgomery on permanently as her conservator, and doesn't want her father to return to the role when Montgomery's temporary position expires on August 22.
Why Does Britney Want to Change Her Conservator?
Per court filings, Britney wants a conservator who is a licensed professional — not her father. But she also is making some serious lifestyle changes, and wants her conservatorship to reflect that. The most major lifestyle change? Britney wants to stop performing. In the decade following her breakdown and subsequent placement under a conservatorship, Britney had a four-year residency in Vegas from 2013 to 2017, amassing almost 250 shows over that period of time. She followed that with a tour that ended in October of 2018, and during that time, did a season on X factor. In other words, she worked hard over the past decade, and she's simply done. She wants to retire from performing — but in the current terms of her conservatorship, her dad can make her work if he decides its in her best interest.
In court documents, Spears described her conservatorship as existing in three phases — the first being "triage," in which she was rescued from financial collapse and exploitation, and the other two phases were the past decade of performance and work. She just wants to retire now!
Can Kids Do This To Their Parents?
While most kids aren't in a legal conservatorship with their parents, kids can emancipate themselves from their parents before they turn 18 years old. After this process, parents have no control over or access to their children.
This article was originally published on