The Best Indie Band On The Planet Adorably Bonded With Conan O'Brien
Conan O'Brien's daughter dragged him to Coachella. What happened next is every indie loving dad's dream.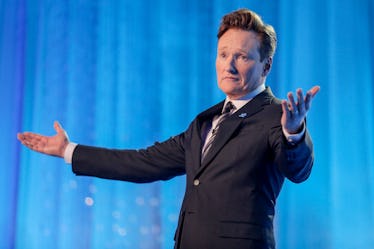 Variety/Penske Media/Getty Images
Conan O'Brien recently shared a story that is pretty much a dream come true for any dad who has a teenager. While raising kids, there's often a shift that happens during those early teen years where, as a parent, you're no longer cool. This shift is an equal opportunity one: it happens to to Hollywood parents and the rest of us alike. But Conan O'Brien recently got a taste of being cool again, thanks to the band Japanese Breakfast.
On a recent episode of Conan O'Brien Needs A Friend, the comedian chatted with Michelle Zauner, author of Crying in H-Mart and frontrunner of Japanese Breakfast, an indie pop band, about her music. Conan started the intreview by explaining the time he was introduced to Zauner's music, which was through his daughter, Neve.
O'Brien explained that his 19-year-old daughter invited him to attend Coachella with her last year, "I say sure, that's just the place for someone my age, right?" he joked.
On the drive to the festival, Neve wanted her dad to choose which sets they would go see, so she blind-played O'Brien songs from the bands without telling him the band names.
"She's playing me all different kinds of music, and I'm saying, 'I like this one. I like that band. Yeah, this one should be good,'" O'Brien recalled. "And then I singled out — she played me a couple songs, and I said, 'This is the band we have to see. We have to see this band.' And she said, 'Correct! That is Japanese Breakfast!'"
So that's what they did — O'Brien and Neve make sure to catch Japanese Breakfast's set. And in a cool move that dads can only dream of, while O'Brien and his daughter might have thought he stuck out in the crowd because he was so uncool, the opposite happened. At least for Zauner because she saw him in the VIP area of the stage and got nervous because she thought he was too cool to be at Coachella.
"It was hard to not just, like, look at you when we were playing because we were all just like, 'Oh my god, Conan O'Brien is watching us play,'" Zauner recalled. "And so, I felt like I really had to perform for you. I feel like I was just watching you and hoping that you didn't walk away. That was like my marker. But then, in retrospect, I feel like that must have uncomfortable — to be someone's focal point."
Dad win, for sure!