Colson Whitehead Wins Pulitzer Prize, Celebrates By Beating Kids at Mario Kart
Oh, and he's got some dope jerk chicken to go with that, too.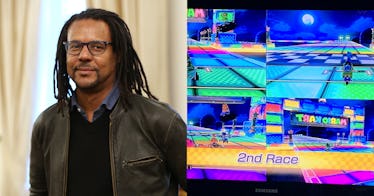 Novelist Colson Whitehead has won the Pulitzer Prize for fiction for the second time in his career. This time it's for his novel The Nickel Boys, but in 2017 it was for his book The Underground Railroad. Prior to Whitehead, the only other people to win the Pulitzer twice for fiction were John Updike, William Faulkner, and Booth Tarkington.
However, were you also aware that Colson Whitehead has finally beat his kids at Mario Kart? On Monday, the author thanked everyone for saying nice things about his win, but also noted that he's snagged some peppers to help him make jerk chicken and that he also discovered a way to get better at Mario Kart which has meant his kids are "winning…less often."
Colson Whitehead is a great writer (my personal favorite book of his is the zombie novel, Zone One) but The Nickel Boys is obviously fantastic, too. (It's not light reading though, just to be clear.)
All of that aside, I gotta say that as a father — and as a man who celebrated the publication of his first book by playing Mario Kart — Whitehead deserves another award: Raddest literary dad who also crushes at cooking and Mario Kart. The only question now is simple: Does being an award-winning writer grant you better Kart skills? The jury may have voted on the Pulitzer, but it's still out on that one.
You can snag Whitehead's award-winning novels above this sentence and below it, too.
This article was originally published on