The Best Cinderella Is FINALLY Hitting Disney+
Whitney Houston, Brandy, and Jason Alexander all in the same movie? Who could ask for more?!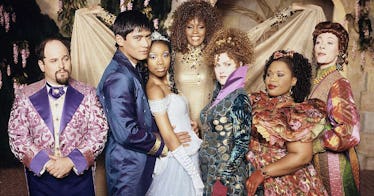 Disney
Since the launch of Disney+ in late 2019, musical lovers, Houston-heads, and Jason Alexander fanatics have all had the same question: where is Cinderella? No, not the 1950 animated film, which has been on the streaming service since day one. We're, of course, referring to the far superior 1997 TV movie based on the Rogers & Hammerstein musical. And after nearly 18 months of waiting, our prayers have finally been answered, as Rodgers & Hammerstein's Cinderella will be available to stream on Disney+ starting at Midnight on February 12.
The news was met with unbridled pandemonium online, with thousands of fans rejoicing that they would finally be able Why is this Cinderella adaptation so beloved? While it may follow the same familiar beats of the story we all grew up with, this version sets itself apart with a seemingly endless supply of charm, along with adding a dash of postmodern sensibility to the timeless tale.
CinderellaCinderella will be available to stream on Disney+ at Midnight on February 12.