Adult Coloring Book Fans: The Author Of 'Fight Club' Has Something For You
"Everyone you hate wins."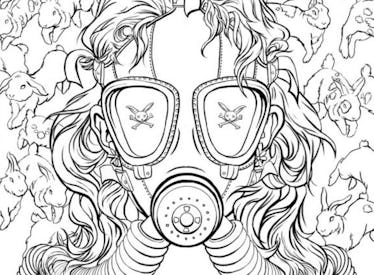 Dark Horse Books / Kirbi Fagan
A few months ago you learned that adult coloring books are messing with your kid's colored pencil supply, but now the trend has taken a turn for the odd. The author of Fight Club, Chuck Palahniuk is releasing his own, in which (presumably) the one rule about adult coloring is that you do not talk about adult coloring.
The good news about the book Bait: Off-Color Stories For You To Color is that it's not just an adult coloring book, but also a book of 8 short stories. The bad news is that it includes kind of pokes at parents. Palahniuk described the work to Mashable as "Grown-up stories told in a child's medium. About parents who are bested by their kids. Guardians who, despite their good intentions, create havoc." Sound familiar? That might hit a little close to home, but coloring in a picture of a dog taking a dump on a Hollywood star might help you have sense of humor about it.
The book won't be available in stores until the end of October, which gives you time to get use to these weird worlds colliding. If you're already a fan of Palahniuk's writing, it might be the most tolerable way to accept adult coloring into your life. Just don't buy it for your kid.
[H/T] Mashable
This article was originally published on