This Is Actually How Long to Keep Your Christmas Tree Up
Taking the tree down too early or too late could bring bad luck.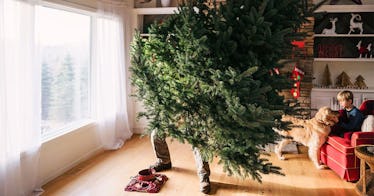 Elizabethsalleebauer / Getty Images
We all know that one person who keeps their Christmas tree up for what feels like forever. While many of us are ready to pack away the decorations almost as quickly as the presents are unwrapped, others like to hold on to the magic a little longer. But what does Christmas tradition say for how long we should leave our tree up? Well, it's a lot longer than you may think.
The holidays and how each family celebrates tend to vary. We all have our own traditions and those drive how we move about the holiday. And that's why there's so much variation in how long someone's Christmas tree stays up. But, if you wanted to go by actual Christmas tradition, our decorated trees should stay up until January 6.
According to Southern Living, there are actually 12 days of Christmas, like the song. But this time period begins on December 25 and doesn't end when Santa has come and gone. Instead, the 12 days of Christmas go from December 25 through January 5.
"According to Christian tradition, January 6 marks the day the three kings actually arrived in Bethlehem and signals the end of the Christmas celebrations," the publication reports.
Tradition says that January 6, also called The Feast of Epiphany, Three Kings Day, or The Twelfth Night, is the earliest a tree should be taken down because that's the date that signals the end of the traditional celebrations.
January 5 is technically the 12th day of Christmas, and so removing the tree earlier is "actually unlucky." But, for what it's worth, some also say that taking the tree down later than January 5 or January 6 is bad luck, too.
So, if you were looking for a reason to keep the holiday spirit alive a little bit longer, here it is. Keep that tree and the decorations up for a few more days. And, honestly, after the past year we've all had, and the stresses we're still struggling with if keeping the tree up even longer makes you smile, no judgments here.