This Study Says the Best Christmas Song For Getting Kids to Sleep is "Santa Baby." Really.
Eartha Kitt's version of the classic Christmas song might help kids doze off when Santa's on his way.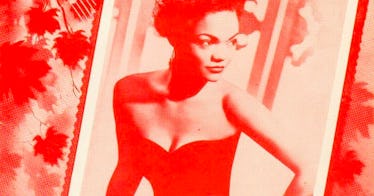 Trinity Music publishing/MGM
The hardest night of the year for most kids to fall asleep is Christmas Eve, which is quite inconvenient for parents who need to surreptitiously fill stockings. And while you can always try to encourage a tiring snowball fight, for instance, it's good to have another way to encourage kids to doze off.
A new study from kids' bed specialist Cuckooland tried to find the best Christmas songs that'll have kids falling asleep on the 24th and throughout the holiday season.
"The function of a lullaby is to soothe a baby and put them to sleep, so common features we would expect to see in lullabies would be, a slow(ish) tempo, relatively quiet dynamics, simple rhythm pattern – potentially one that imitates a rocking movement and a simple melody," says Annaliese Grimaud, a researcher at the Music & Science Lab at Durham University.
Grimaud added that repetitive songs, which are predictable and thus easier to memorize and sing, and those with higher-pitched vocals (because of the connotation that mothers usually sing babies to sleep) also work better as lullabies.
The researchers analyzed over 4,500 songs from Spotify playlists that had the word "lullaby" in the title and found the most common tempo (91 bpm), key (C), and time signature (4/4) of those songs.
"Santa Baby" by Eartha Kitt was the number one "Christmas lullaby," followed closely by Gene Autry's "Here Comes Santa Claus (Right Down Santa Claus Lane)" and Stevie Wonder's "What Christmas Means to Me."
Now will playing a Spotify playlist of these songs actually make your kid fall asleep? Probably not. Is it worth trying if there's any chance it could help your kids, hopped up on Christmas cookies and Yuletide excitement, fall asleep? Absolutely.
Here's the complete list:
Eartha Kitt – Santa Baby
Gene Autry – Here Comes Santa Claus (Right Down Santa Claus Lane)
Stevie Wonder – What Christmas Means To Me
George Michael – December Song (I Dreamed of Christmas)
Band Aid 30 – Do They Know It's Christmas
Boney M – Mary's Boy Child
Band Aid 1984 – Do They Know It's Christmas
Nat King Cole – The Christmas Song (Chestnuts Roasting On An Open Fire)
Band Aid 20 – Do They Know It's Christmas
Dean Martin – Let It Snow! Let It Snow! Let It Snow!