Christmas Lights Are Suddenly Reappearing In Spring
It's a sign of hope and solidarity.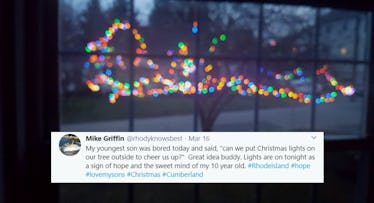 Credit: Twitter / rhodyknowsbest
It might be safe to say that everyone is feeling a little anxious lately. There is so much different about this month for us than last month, and being aware of that and spreading kindness makes everything feel a little better. Although today is the first day of spring, you might start seeing some Christmas lights adorn houses shortly, and It's not because we're stuck inside and still haven't taken them down. No, people on Twitter have called for a bright movement where people put their Christmas lights on in a show of solidarity. Here re the details.
As people keep their distance to help slow the spread of the novel coronavirus, we still crave ways to be social. Sports broadcaster Lane Grindle came up with an idea and posted it to his Twitter account on Sunday. "What if we all put our Christmas lights back up," he wrote. "Then we could get in the car and drive around and look at them. That seems like a fair social distancing activity."
Such a great idea and the coolest part of this is that he wasn't the only one t think of this. Mike Griffin shared on Monday that his 10-year-old son had the same idea, asking his family to put Christmas lights on the tree to help bring some happy vibes to the family. "Lights are on tonight as a sign of hope and the sweet mind of my 10-year-old," Griffin said.
People started joining in on this movement and shared images of their Christmas lights up in the middle of March.
This is the type of trend we need to have more of. It's incredible what thinking of others can do for the entire community. If you are struggling with feeling isolated while we self-distance, you're not alone.