You Have to Check Out This Dude's $100K Christmas Light Display
And it was worth every 'National-Lampoon' themed penny.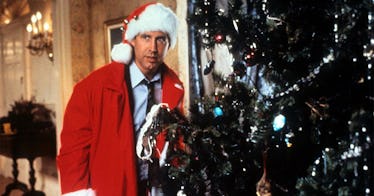 Archive Photos/Getty
There are some people who go all out for the holiday spirit. It's like Christmas runs through their veins and spreading that cheer becomes their full focus in December. Jeff Norton, who lives in the city of La Mirada in Los Angeles County, shares his holiday joy with his community through his elaborate, and expensive National Lampoon Christmas decorations.
Jeff has become known in his city for his yearly holiday lights display he pours his heart into every year. Each year, he transforms his house into a replica of the Griswold Christmas House Display, inspired by his love of the National Lampoon's Christmas Vacation movie. And every year he somehow manages to one-up his display from the previous year.
Starting in 2018, Jeff puts a lot of time, effort, and money to make his display as real to the movie as possible. He changed the color of his house – and the gutters – to look similar to the yellow and green home in the movie.
From there, he stages key moments from the movie into his light show. Mannequins dressed as the characters, the vehicles, wall of lights, he even has a 1972 Ford Condor RV that's been altered to look like the one from the movie.
"I started with an RV and a regular store mannequin," Jeff said to LA Times. "I noticed there was some excitement, and then I went out and bought three pallets of lights." Every year he adds something different to his Christmas decorations, this year was a mock second-story to his house to look even more like the Griswold's house.
It's definitely a passion project and Jeff told LA Times that he estimates she's spent around $100,000 on the display over the past several years. The community helps him keep the display going each year with donations and in return Jeff hands out movie-themed merchandise.
At first, Jeff would receive pushback from the city officials over his elaborate display. However, the support of the community prompted the city to compromise – Jeff's allowed to keep the Christmas decorations display up, but he needs to have it taken down by January 1 – until next Christmas, of course.