Christian Bale Could Have Done a 4th Batman Movie After 'Dark Knight Rises'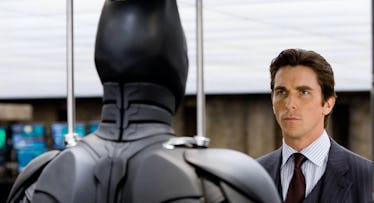 Credit: Photo by Warner Bros/DC
At the end of The Dark Knight Rises, Batman is not only alive but happily drinking wine with Anne Hathaway. It seems impossible, but it's been 11 years since the final Christian Bale and Christopher Nolan Batman movie hit theaters. Since then, Ben Affleck has played Batman and now Robert Pattinson has slipped into the Batsuit for the highly anticipated 2021 film, The Batman. But what if it had all happened differently? What if Christian Bale had done one more turn as Batman?
Speaking to the Toronto Sun about his new film, Ford v. Ferrari, Bale makes it clear that a fourth Batman film was 100 percent in the cards, and certainly something Warner Bros. wanted from both him and director Christopher Nolan.
"Chris [Nolan] had always said to me that if we were fortunate to be able to make three we would stop," Bale explains, saying the director always wanted it to be a trilogy, no matter what. Though Nolan and Bale always felt lucky each time they were able to make a new installment in their version of Batman. These days, we consider the Dark Knight trilogy to be a modern classic in the superhero genre; movies that stand apart from the Marvel versus cinema debate. But, at the time, Bale points out that doing a new version of Batman was considered to be a fairly risky gamble.
"I literally had people laugh at me when I told them we were doing a new kind of Batman," Bale says. "I think that the reason it worked was first and foremost Chris [Nolan's] take on it."
Still, when the studio wanted a sequel to The Dark Knight Rises, Bale said Nolan turned it down. "Let's not stretch too far and become overindulgent and go for a fourth…That's why we, well Chris, stepped away. After that, I was informed my services were no longer required."
Though this interview makes it sound like Bale was in solidarity with Nolan, that last detail also suggests he would have done another Batman movie in a different capacity if asked. Though Christopher Nolan produced The Man of Steel and Batman eventually appeared in its sequel, Batman v. Superman, it's an interesting thought experiment to consider what would have happened if it was Bale's Batman and not Ben Affleck who battled with Superman? It's an alternate dimension we'll never visit; one starring a Batman that we didn't need, per se, but certainly, the Batman we still think we all deserve.