Chrissy Teigen Will 'Never' Be Pregnant Again
"Every glance in the mirror reminds me of what could have been."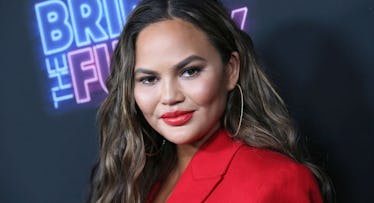 Getty
There are a lot of phases in parenting that are hard to let go of. Even when everything in our hearts tells us we're done having more kids, there's a sort of grieving process that all the "firsts" are done. For parents who have that choice taken away from them before they were ready to decide for themselves, the processing of those feelings is more complicated. And that's what Chrissy Teigen is working through.
Chrissy and her husband, John Legend, have been open about grieving their son, Jack, who died at just 20-weeks gestation. The mom to Luna and Miles has been really open about the complicated emotions of giving birth to a baby she didn't get to bring home. And doesn't get to raise. All of that after a very challenging pregnancy with some pretty scary complications. It's heavy, and most families feel like they have to carry all that weight on their own.
Chrissy has been so giving in sharing her feelings so openly. To be willing to show her vulnerability. To show other parents that their pain is real, it matters, and many factors come with walking through the fog of grief.
In her latest share, Chrissy opened up about her postpartum body. Three months after giving birth and saying "goodbye" to Jack, she admitted that it's "frustrating" that she still has her bump.
"This is me and my body, just yesterday," she shared on Instagram on Dec. 23. "Even though I'm no longer pregnant, every glance in the mirror reminds me of what could have been. And I have no idea why i still have this bump, honestly. It's frustrating."
There's a complicated relationship a mom can have with her body after going through something so traumatic. And, for Chrissy, on top of processing that, she also has to come to terms that the decision to have more kids, or not, isn't up to her and John anymore.
That's really heavy.
She continued, "But I'm proud of where this entire journey took my body and mind in other ways. I love being pregnant, so so much, and I'm sad I never will be again. But I am lucky to have two amazing little ones who are transforming into big little people more and more every single day. Anyhoo. Love u guys."
We can't rush the grieving process. And we're thankful that Chrissy has shown her large circle of influence a little window into her grief. Last month, Chrissy and John opened up about looking to keep a "little bit of sunshine" in their lives as they process this all as a family.
"You learn how to cope with it. I am very proud to say that there's multiple different therapies I'm using to hopefully become the same person that I was, and I'm OK with that," Chrissy told People. "I'm OK with allowing myself to have bad days and good days."
It's not easy to be vulnerable. And we're sending all our love her way.
This article was originally published on