Chrissy Teigen Will Never Again Clap Back At Parent Shamers On Twitter
"It's time for me to say goodbye."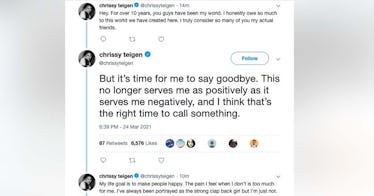 Well, the bullying took its toll, and Chrissy Teigen has deleted her Twitter account. This celebrity was one of the rare few who always told it like it is. Even sharing the parts of parenting that were messy or confusing. She often tweeted incredible clap backs at people who shamed her parenting decisions. And now it's all over. Here's what happened.
On March 24, 2021, Chrissy took to Twitter, sharing that she was stepping away from the platform. "Hey. For over 10 years, you guys have been my world. I honestly owe so much to this world we have created here," Chrissy began a Twitter thread. Adding, "I truly consider so many of you my actual friends."
"But it's time for me to say goodbye. This no longer serves me as positively as it serves me negatively, and I think that's the right time to call something," Chrissy wrote. "My life goal is to make people happy. The pain I feel when I don't is too much for me. I've always been portrayed as the strong clap back girl, but I'm just not."
"My desire to be liked and fear of pissing people off has made me somebody you didn't sign up for, and a different human than I started out here as! Live well, tweeters," she added. "Please know all I ever cared about was you!!!"
Chrissy continued saying that over the years, she's been "deeply bruised" and reminded people on social media "that your words matter." Acknowledging that she's made mistakes "in front of hundreds of thousands and been held accountable for them," she said she's learned a lot.
"I've learned an incredible amount here," she writes, saying that she hasn't learned how to "block out the negativity."
She ended her thread with a heart and then swiftly deleted her account.
Chrissy leaving Twitter is a huge blow. Not only because she was fun to follow on the platform, but it points to a larger problem. People are relentless, and bullying is running rampant. Even for Twitter's "unofficial mayor," there was little done from the company to curb the vitriol she received daily.
It didn't seem to matter what Chrissy tweeted about; she got hate for everything. When she shared a new collaboration with Kris Jenner, people accused her of being a sellout. When Chrissy suffered the loss of her son Jack at 20-weeks gestation, she was accused of sharing photographs to get attention. Even tweeting her observations while watching 90 Day Fiance, she was crapped on.
It's not a surprise she's walked away from the platform. Hopefully, this is the last straw that Twitter needs to finally do more about the harassment that plagues the platform.
This article was originally published on