Chrissy Teigen Trades Banana Bread for Lettuce With a Stranger
These are strange, but funny, times.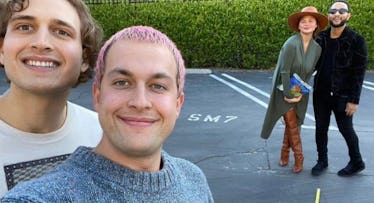 Credit: Twitter / chrissyteigen
Being in quarantine is hard and add a lowered supply of groceries; we have to get creative in terms of meals for our families. It's not only toilet paper that is hard to get, but many fresh fruits and vegetables are also on low supply, baking products like flour and yeast take some hunting to find on the shelves. Chrissy Teigen has even encountered this and put a call out on Twitter for someone to trade her a loaf of home-baked banana bread for some romaine lettuce. And someone answered her call.
Teigen took to Twitter on the hunt for someone who will trade her. She writes, "I'll make a banana bread for anyone that has romaine lettuce." Adding that she is still expecting social distancing rules to be in play, "The trade will be made 6 feet apart and we will place the goods on the floor. no funny business."
It didn't take long for her to receive several replies, but one person had the goods and lived nearby. Chris Klemens, a YouTube personality from Studio City, sent a photo of himself holding a 3-bag of romaine lettuce.
Klemens posted a video with his 3-bag of lettuce and assured Teigen that he did have the lettuce, and he was willing to make the trade. Teigen and Klemens then made plans to meet the next afternoon, and she was getting ready to bake his banana bread to trade.
All was going smoothly until Teigen's husband, John Legend, wanted some bread too. Teigen tweets, "Crap @ChrisKlemens I only have enough for one banana bread and john is not happy I'm trading it. Would you accept half a banana bread? please … my family. Have mercy on us." She offered to throw in some pie, which was accepted by Klemens.
The two set up the time to meet, with lettuce, bread and pie in hand, Teigen said she'd also trade buttermilk for some rose.
Finally, Teigen and Klemens met at a church parking lot in Studio City. She brought along her kid's toy car, and Klemens came with a measuring tape to make sure they followed all CDC recommendations for social distancing and staying at least six feet apart.
The trade happened safely, with Teigen getting her three heads of lettuce and Klemens scoring half a loaf of banana bread, two slices of pie, and a bottle of wine.
This article was originally published on