A Massive Chlorine Shortage Could Kill Your Summer Pool Days
Low supply + high demand = big trouble for pool owners.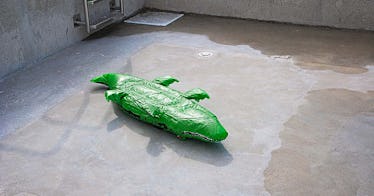 Summer is almost here, which typically means that your kid's school days will soon be replaced with pool days. But in a terrible twist of pandemic-related shortage fate, America may be headed for an extremely hot summer without the respite of a gleaming, chlorine-filled pool. That's right: an unprecedented chlorine shortage that is causing prices to skyrocket and could result in families not being able to enjoy their beloved pools. Boooo!
But why? Why has chlorine forsaken us? The reason for the chlorine shortage comes partially from the pandemic, as demand for chlorine tablets greatly increased last summer because people were mostly stuck at home, relegated to hours and hours of sharks and minnows. And while we are seeing signs of a return to normalcy with the vaccine rollout, chlorine demand remains high because, hey, swimming is great.
Pool industry experts estimate that chlorine usage could increase by almost 60 percent compared to a typical summer, which many believe could cause prices to jump by nearly 70 percent.
This increase in demand is exacerbated by a shortage in supply that was caused by a manufacturing facility of one of the country's major suppliers of chlorine tablets, BioLab, burning down in Louisiana last August. The plant is expected to resume operations by next spring but is out of commissioner for this summer.
The combination of a lack of supply and heightened demand has many in the pool and chlorine industry concerned that there will inevitably be a shortage for this summer. Some pool companies have already begun stocking up on chlorine tablets to prepare themselves for the potential shortage, including Allan Curtis, who owns Ask the Pool Guy, a pool maintenance business in Michigan.
"[I expect pool owners] will have to go from tablets to powdered chlorine, from powdered chlorine to liquid chlorine, from liquid chlorine to nonchlorinated shocks and things," Curtis told CNBC. "And I do believe that all of those are going to literally run out."
So if you are planning to use your pool this summer, you may want to get your chlorine tablets now. Otherwise, you may end up having to wait until 2022 to take a dip, as pools are notoriously gross.
This article was originally published on