Chipotle Offers Path To Middle Class With Six-Figure Wages
Fast-food chains are upping incentives in an attempt to bring on more staff.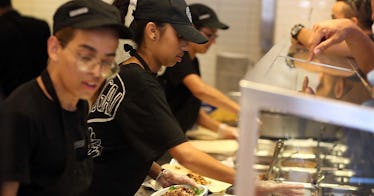 GETTY
Fast food restaurant chains are stepping up and have announced plans to raise wages for their workers and offer incentives to help bolster employment. Chipotle announced its plans to increase wages to be, on average, $15 per hour for new and existing employees. It also shared plans to hire thousands of new workers across the country. But Chipotle isn't the only company offering new increased wages and other perks – several competitors are also.
According to CNN, Chipotle is increasing the pay of the workers in their restaurants, bumping the average to $15 per hour. On top of this, the company said that some employees will become eligible to make an "average compensation" of $100,000 for staff promoted to a general manager position. According to the company, it takes approximately 3-and-a-half to four years for an employee to be eligible for those top pay positions.
Fast food restaurant chains have been struggling to keep their employees on staff during the pandemic. It's likely a mix of people needing to step back from work to account for things such as their children in a remote school or needing to take care of a loved one. Other people discovered they'd have a more livable wage through the Federal unemployment supplements running right now during the pandemic and weighing that against the chances of catching COVID.
On top of the wage increase, Chipotle is also committing to hire an additional 20,000 workers across the country. It's holding a virtual job fair to attract potential new employees. It is also rolling out an employee referral bonus, offering $200 for current employees referring someone else who gets hired. The referral bonus for general managers is much higher at $750 per referral.
Chipotle isn't the only restaurant chain increasing incentives to attract new workers. According to Wall Street Journal, McDonald's said it will be increasing wages for more than 36,500 workers by an average of 10 percent in the coming months. With this bump, non-managerial workers would earn an entry-level hourly rate between $11-$17 per hour. The increase will see supervisors earning an hourly minimum of $15 to $20.
McDonald's also reports its plan to hire new workers across the country, looking to bring on 25,000 new employees in Texas alone. KFC, Taco Bell, Applebee's, and more chains have also announced plans to hire thousands of workers across the country as in-dining experiences begin to reopen.
This article was originally published on