China Just Made Weeknight Video Games Illegal for Kids
The government blames video games for a "host of societal ills."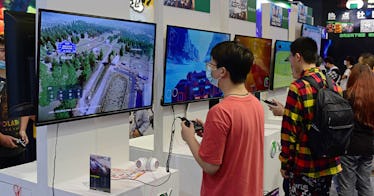 GETTY
Kids in China have a new rule they must follow when it comes to video games. Instead of parents reducing screen time, the Chinese government has instituted a new country-wide rule to reduce the number of hours kids spend playing video games.
According to The Wall Street Journal, China has issued strict new measures for video games and the kids who love to play them. The new regulation prohibits kids from playing video games during the school week, limiting games to one hour a day on Fridays, weekends, and public holidays.
"The new regulation, announced by the National Press and Publication Administration, will ban minors from playing videogames entirely between Monday and Thursday," the publication reports. "On the other three days of the week, and on public holidays, they will be only permitted to play between 8 p.m. and 9 p.m." The Wall Street Journal noted that the term "minor" wasn't clearly defined, but it's believed to be anyone under 18 years old.
The measure is extreme, and the Chinese government believes this new mandate will help curb what the authorities in the country feel is a dangerous video game addiction from the youth.
The Wall Street Journal reports that the government feels video games are to "blame for a host of societal ills, including distracting young people from school and family responsibilities."
In the US, an overwhelming number of parents feel their teens spend too much time on video games. According to a report from the University of Michigan's C.S. Mott Children's Hospital National Poll published in January 2020, 86 percent of parents "strongly agreed" or "agreed" that their kids spend too much time gaming. Passing a law to prohibit, and potentially criminalize, how minors spend their time, however, is probably a step too far, to put it mildly.