220 Children's Hospitals "At Capacity," Beg Biden Admin To Help
They are asking the Biden administration for help as they are running out of beds.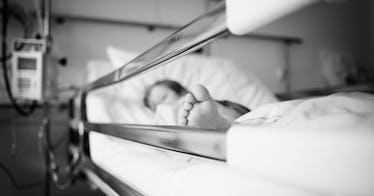 Facing an "unprecedented strain" due to the rise of COVID cases in America's youth, a group of more than 220 children's hospitals are asking President Biden's administration for help as they are "at or near capacity."
According to the Children's Hospital Association, hundreds of children's hospitals are at serious risk of running out of beds and rooms for patients, along with reaching the limits of staff's abilities to treat patients properly.
"[T]here may not be sufficient bed capacity or expert staff to care for children and families in need," wrote CHA CEO Mark Wietecha in a letter to President Biden
The biggest reason for the impending lack of resources is that the Delta variant has proven to be more prevalent in children than previous strains of COVID-19. According to the US Centers for Disease Control and Prevention, an average of 330 children were admitted to hospitals every day with COVID-19 in August, marking the highest rate of COVID hospitalization for children in the past year in the United States.
But Wietecha said hospitals are also seeing an increase in children being hospitalized for serious mental and behavioral health issues, as we still don't know the entire impact that the pandemic has had on everyone, especially children.
"Our children's health care safety net is under unprecedented strain," Wietecha said in a news release. "Children's hospitals and their dedicated staffs are doing their part, and we hope every American, the White House, and Congress can help."
Unfortunately, these numbers are not expected to decrease any time soon, as the Children's Hospital Association believes that there will likely be more hospitalizations of kids due to students beginning to return to school and interact more with the outside world while still being unvaccinated, and in some states being unable to mask up or be around others in masks due to school mask mandates.
With this perfect storm brewing, hopefully, the Biden administration will step up and be able to provide the assistance that children's hospitals need in order to ensure that every kid gets the care they need and deserve.
This article was originally published on