Biden Administration Launches New Child Tax Credit Sign-Up Website
It's better late than never.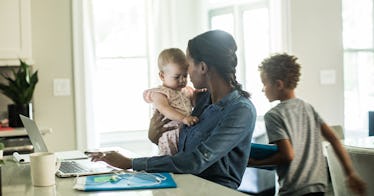 The Biden administration had a problem.
The expanded Child Tax Credit the federal government worked hard to pass as part of the American Rescue Plan wasn't reaching many of the most vulnerable parents in the country, those who made so little income that they didn't have to file taxes. But since the IRS uses tax return data to know who is entitled to a CTC, many non-filers simply haven't been receiving the payments. A previous effort at fixing the problem, freefillableforms.com, suffered from a poor user experience, lack of mobile compatibility, and the fact that its URL looks pretty scammy.
Possibly with the memory of the disastrous Healthcare.gov launch in the back of its mind, the administration and the non-profit organization Code for America came up with GetCTC.org. It looks and functions lightyears better than before, making it easier for those with dependents under 18 who haven't filed taxes in a while to get the CTC money they deserve.
GetCTC.org is a step-by-step wizard that helps people understand if they would benefit from filing a full return and, if not, file a simplified tax return electronically. That means it requires a fairly basic set of information and that it can be completed in a matter of minutes.
In a perfect world, the government wouldn't need to rely on a private entity to create a tool for poor people to access the tax credits they're owed. In an even more perfect world, the tax prep lobby wouldn't be so successful at keeping the tax code complicated and the onus of navigating its labyrinthine forms and rules on the taxpayer.
Still, GetCTC.org is a big step forward, as it makes the current system easier for low-income folks to navigate. Hopefully, further improvements (i.e. availability in languages besides English and Spanish) are coming, so that eventually, everyone who is entitled to the child tax credit receives it.
The deadline to sign up for, or unenroll, from the next round of child tax credit payments is September 30th. You can choose to receive monthly payments at that point or the whole payment at tax-filing time. The next round of payments comes out on September 15.
This article was originally published on