First Ketchup, Now Chick-fil-A Sauce: Shortages Are Coming For Our Condiments
The people with a kitchen junk drawer full of this stuff are the only ones laughing.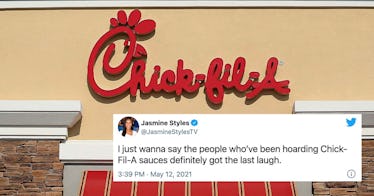 Getty
Pandemic life has brought so many changes in our lives. Overnight we've become teachers on top of remote workers. We've had to be okay without seeing our families, spending way more time at home than we'd wish to. People have fought over toilet paper and hand sanitizer due to shortages. Now the pandemic is coming for our condiments, including Chick-fil-A sauce.
According to CNN, the first condiment to fall into shortage territory was ketchup packets. The convenient packets of ketchup that come in our fast-food takeout hit were hard to come by in summer 2020. By April 2021, the shortage hit a critical level, and restaurant owners were scurrying to try to find them for their customers.
The condiment shortage was a response to the pandemic. With restaurants being discouraged from the traditional dine-in service, delivery and takeout were how they stayed in business. And with takeout came the increased demand for those single-serving ketchup packets. And now the shortages have hit another popular single-serve condiment: Chick-fil-A sauce.
On May 12, 2021, Chick-fil-A announced it was limiting the number of sauce packets it gives to customers in their takeout orders. And one of the sauces is the very loved Chick-Fil-A Sauce – thanks to a supply chain issue due to the pandemic.
"We are actively working to make adjustments to solve this issue quickly and apologize to our guests for any inconvenience," the company said in a statement to CNN.
In response to the shortage, the 2,600 restaurants in the United States will only be dishing out one dipping sauce cup per customer.
The company hasn't said what timeline they expect the shortage to end or if there are other measures that they're working on to increase their supply. But people are feeling the shortage, hard.
No more sauce packets by the handful, and if you have any at home, you might want to start rationing for yourself.
This article was originally published on