Cheesecake Factory Is Giving Away Free Cheesecake Right Now
Here's how you can get a slice.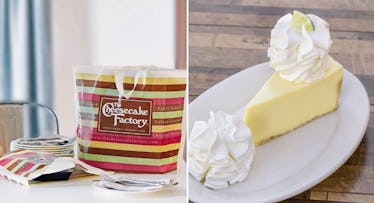 Credit: Instagram / @cheesecakefactory
As restaurants close around the country due to the ban on public gatherings because of the coronavirus outbreak, people are feeling very isolated. We can't just pop out for a slice of pizza for a friend or a cup of coffee, and we're not sure when we will be able to return to normal. Cheesecake Factory is looking to make things a little easier, one cheesecake slice at a time. The company announced they are giving away free cheesecake and here's how you can get a slice.
The Cheesecake Factory, a nationwide restaurant that sells cheesecake and 250 other menu items, announced that they are closing their dine-in service. Still, their takeout and delivery through DoorDash will remain open.
"Your well-being & safety is our number one priority. As many cities transition to not allowing dine-in service, we remain open for takeout & delivery," the company writes in its announcement. Even when we're apart, we can get through this together."
The company wants to make things a little easier and so they're giving away a free slice of cheesecake for all online to-go orders of $30 or more. The promotion will run now through April 16th using the promo code FREESLICE for any pick-up or Curbside To-Go orders.
"As many of our cities and neighborhoods transition to no longer allowing dine-in service, our restaurants are open to help our guests continue to enjoy their Cheesecake Factory favorites whether they're ordering them online for pick-up or in-person for takeout," said Donald Evans, Chief Marketing Officer of The Cheesecake Factory. "We thought a complimentary slice of cheesecake would provide our guests with some happiness during this time of uncertainty."
And who wouldn't enjoy a free slice of cheesecake?