How To See This Year's Epic Desert Superbloom
All that winter rain is bringing bright fields of wildflowers.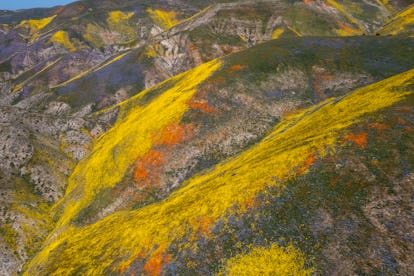 David McNew/Getty Images News/Getty Images
This past winter in California was one of the wettest on record, with rainwater levels that devastated some areas with widespread flooding and power outages. The state, which has been drought-stricken for three years, has had so much rain that its total rainfall so far this year is 143% of an average year's rain levels.
Now, with the change of seasons, residents are seeing a positive to all that rain — a superbloom, otherwise known as "a natural phenomenon where many annual wildflowers all bloom simultaneously," Naomi Fraga, director of conservation programs at the California Botanic Garden in Claremont, told The Washington Post.
The flowers wait for "just the right conditions" to bloom, and those "right conditions" are lots of winter rainwater and cooler temperatures, both of which California had in abundance this year.
According to ABC News, this year's superbloom is "historic," with the wildflowers painting the landscape in bright swaths of oranges, yellows, and purples, so large they can be seen from space.
The last time California saw a superbloom was in 2019, and the one before that was in 2017. During these occasions, tourists head to the state in droves for a chance to see the bright, endless fields of color with their own eyes.
Here are some of the spectacular views already on display.
An aerial view of the Temblor Range, a mountain range that rises from the east side of the San Andreas Fault at Carrizo Plain National Monument. (Photo by David McNew/Getty Images)
Wildflowers and poppies from the Antelope Valley in Southern California. (Getty Images)
Another shot from the Antelope Valley California Poppy Reserve, located one hour north of Los Angeles. (Photo by George Rose/Getty Images)
The desert blooming in Carrizo Plain National Monument here is compared to an image taken in April 2022.(NASA / Getty Images)
Where To See The Superbloom
If you're planning to make a trip with the kids, the California Department of Parks and Recreation has a running list of areas in the state where people can see the bright superbloom in person.
Bay Area:
Mount Tamalpais State Park
China Camp State Park
Trione-Annadel State Park
Sugarloaf Ridge State Park
Southern California:
Anza-Borrego Desert State Park
Chino Hills State Park
Eastern Kern County Onyx Ranch State Vehicular Recreation Area
Red Rock Canyon State Park
Tule Elk State Natural Reserve
Lake Elsinore, which has been a really popular place to view the superbloom, is closed to visitors this year to ensure "the safety of public land and wildlife," the city told KTLA News.
How To Check Out The Superblooms Virtually
If you're not able to head to California in person to see the superbloom with the family, there are thousands of images on the internet that you and the kids can scroll through. NASA, for one, has its eyes on the blooms. The California Department of Parks and Recreation too has a live feed set up at its Poppy Reserve, and there's a live stream set up at the Lake Elsinore location. Failing that, there are tons of tourists flocking to see them IRL, so be sure to check out the unavoidable bragging going on in Instagram. For once, it's worth following along.