The 10 Cheapest States in the Country Can Cure Your Housing Hubble Blues
Anyone got any moving boxes?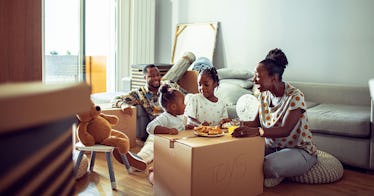 The world has really changed in the past few years. Between the political climate and the pandemic, it feels like everything in our lives has shifted. One of the big ways is the housing bubble we've found ourselves in. Not only are homes more expensive and uber-competitive when trying to buy, but the cost of living has also skyrocketed too, while wages more or less stay the same. Families have been hit hard, and if that's you, moving to a cheaper state may be ideal. Not sure where to move? Here are the 10 most affordable states to live in across the US.
According to CNBC, supply chain disruptions and the price increases that followed have been hit harder in some states than others. In addition, the site recently outlined its annual America's Top States for Business study, which includes the cost of living as one of the key factors.
From there, using the data collected, the site outlined the 10 cheapest states, factoring including average costs, price of milk, and how much the energy bill costs and gave each state a score out of 75 with the higher the score meaning, the more affordable the state is (aka cheapest).
And looking at the difference between the 10th state and the top cheapest, there's a big difference, so we can probably safely assume that the states that didn't make the top ten for being cheap and affordable grow exponentially.
For families who are thinking about moving to have a higher quality of life with the cost of living being more reasonable, here are the 10 cheapest states:
10. Indiana9. Tennessee8. Georgia7. New Mexico6. Alabama5. Missouri4. Arkansas3. Oklahoma2. KansasMississippi, with a score of 75 out of 75which state would be best to raise