How to Celebrate Juneteenth with Your Kids
For far too long, Juneteenth has not gotten the respect it deserves. It's time to join the celebration.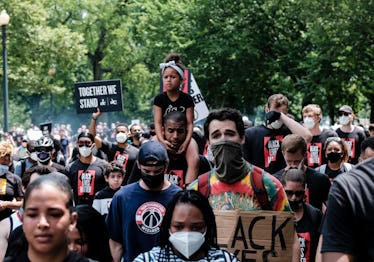 (Photo by Michael A. McCoy/Getty Images)
Juneteenth is the celebration of the day that federal soldiers arrived in Texas to tell enslaved people they were free. President Lincoln had signed the Emancipation Proclamation more than two years before, but slaveholders in the state concealed this information. Though slavery continued in some states in the Union until the 13th Amendment was passed, Juneteenth is considered the effective end of slavery in the U.S. It is a celebration of freedom for many Black Americans.
For far too long, Juneteenth has not gotten the respect it deserves. But with all eyes on the protests and Black Lives Matter movement, many people who had never heard of the holiday want to celebrate it this year. Fatherly has compiled a list of resources to help your family join in. Some of the activities are educational. Some are entertaining. All of them require learning about the history of racism, reflecting on how it pervades our society today, and celebrating the accomplishments of Black individuals.
Resources to Teach Your Kids About the History of Juneteenth
Watch a Video.
Need a quick introduction to the holiday for a kid with a short attention span? Try this informational video from PBS, or a slightly longer one from Educational Videos for Students.
Read a Children's Book.
The New York Public Library has compiled a list of eight picture books designed to teach younger and older kids about Juneteenth. Highlights include All Different Now, written in free verse poetry and illustrated in watercolors, and The Story of Juneteenth, a choose-your-own-path story with multiple endings.
Use Teaching Materials.
You're used to being a homeschool teacher by now. Though school may be out for the summer, teacher resources, like this guide from Teaching Tolerance, can help you talk to your kid about Juneteenth. Tips include not centering emancipation around Lincoln and other white people. Instead, give the focus to the enslaved people who actively resisted slavery, such as by breaking tools or pretending to be ill to protest their forced labor. According to the guide:
"Juneteenth offers an opportunity to talk to students about this complex history. When you do, you can also talk about the progress and opposing forces that continue to threaten all of these milestones, even though they're protected by the Constitution of the United States."
How to Celebrate Juneteenth in 2020
Support Black Media.
Read books by Black authors, watch movies centering Black experiences, and listen to Black musicians. As a starting point, check out this compilation of anti-racist children's books by Publisher's Weekly.
Celebrate with Action.
Attend a peaceful protest in your area against police brutality towards Black people.
Register to Vote.
Educate yourself about issues affecting Black people and where the candidates stand on those issues. On voting day, take your kid with you to the polls.
Attend Live Stream Performances.
June is also Black Music Month. A great option to celebrate both holidays is the virtual Juneteenth Music Festival, which will also feature live podcasts, comedy, and a dance competition.
Visit a Local Museum.
Online, of course. Some, such as the Smithsonian National Museum of African American History and Culture, have posted activities that may include videos or live streams.
Buy From Black-owned Businesses.
Order food from a local Black-owned restaurant or buy a book from this list of Black-owned bookstores.
Advocate for the Juneteenth Holiday
Texas first named Juneteenth as an official state holiday in 1980. Now, all but three states — Hawaii, North Dakota, and South Dakota — recognize it. Yet only three give state employees off as an official paid holiday, according to WUSA9. Juneteenth isn't a federal holiday, either, but many activists are campaigning to make it so. These are the ways you and your family can join the fight to make Juneteenth a national holiday.
Post on Social Media.
Make your own call to action and amplify Black voices speaking out about the holiday.
Sign a Petition.
This petition to make Juneteenth a national holiday has more than 475,000 signatures. Help it get to 500,000.
Advocate in Your Company.
It's not just about what happens at the national level. Ask your boss to make Juneteenth a paid day off, just like July 4.
Celebrate Like a Celebrity
Learn and Teach.
Actor and comedian D.L. Hughley urged his followers on Twitter to learn the history of Juneteenth and teach it to someone who doesn't know.
Advocate for Change.
Singer Pharrell Williams helped make Juneteenth a holiday in Virginia and is now advocating for it to be a paid holiday nationwide. "I just think it's high time that, if we're going to think about what independence and what freedom really looks like, ours was never really acknowledged," Williams said on Jimmy Kimmel Live! on Thursday. "I mean, yeah, there's 47 states that observe it, but that's not a paid holiday. We deserve a paid holiday."
Celebrate Black Artists.
John Legend and Alicia Keys will battle it out on the piano for a special Juneteenth episode of the web series "Verzuz" on June 19 at 8 p.m. ET/5 p.m. PT. Watch their performance here.