CDC Won't Change School Mask Guidance Any Time Soon
For the time being, schools and summer camps will still be a mask-on zone.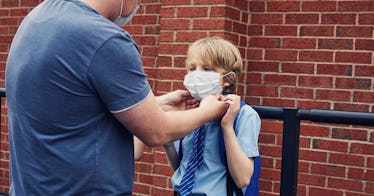 On Thursday, May 13, the Centers for Disease Control and Prevention (CDC) announced that fully vaccinated Americans don't need to wear masks indoors in most situations.
The news, though a good sign that the COVID-19 vaccines that are available are extremely effective, was met with mixed reactions. For parents of unvaccinated children, and in particular parents of children under 12, who aren't eligible for any vaccines, the news was met with a collective question mark and shrug.
After all, the CDC guidelines had very little to say about unvaccinated children and their vaccinated parents. As of Thursday, the agency had not offered special considerations for kids under the new mask guidelines, and the CDC hadn't commented at all on what it meant for kids in schools, adults in schools, both groups at summer camps, and what it meant for child care settings.
But as of Saturday, May 15, the CDC's director, Rochelle Walensky, finally clarified what the new mask guidance actually means for kids at school. Here's what you need to know.
The CDC Isn't Changing Any School Guidances
On Saturday, May 15, the CDC announced that they still recommended the most recent school guidelines they published in the fight against COVID-19. Those guidelines include basically constant mask-wearing, physical distancing, frequent COVID-19 testing, and more, for all staff and students.
The CDC said they wouldn't update those guidelines before the end of this 2020-2021 school year, but hinted that those guidelines could change before the 2021-2022 school year begins.
"Most kids will not be vaccinated or fully vaccinated before the end of this year, and we're going to work on updating our school guidance," Walensky said on CNN over the weekend. Add that to the fact that parents are reportedly very hesitant to vaccinate their children, and it's hard to know what the fall will look like.
Walensky also noted that travel guidelines may need to be updated as well.
What About Summer Camps?
Similarly, as of right now, the CDC won't change much about their guidance for kids in summer camp settings. Kids and staff will be required to wear masks at all times except for when they can't: at meal-times, while swimming, and while sleeping.
But Walensky said that the CDC was working on updating its summer camp mask guideline quickly — most likely in response to the fact that kids 12 and up can now get vaccinated with the Pfizer-BioNTech vaccine — so this could change as children become eligible for vaccination.
What's The Bottom Line, Here?
All of this means that for the time being, kids should continue to wear masks in nearly all indoor settings. (The CDC says it's fine to be unmasked outside whether or not you're vaccinated as long as you're not in a big crowd, so those family walks are safer than ever.)
In addition, parents should wear masks around their children as a show of solidarity — as it could confuse children that they have to wear masks but mom and dad don't. Basically, indoor maskless fun is not available to families, and simply won't be until all children of basically all age groups can get vaccinated. But considering the fact that being maskless outdoors is safe, summer should be a lot of fun.
For the time being, the goalposts will shift to summer camp and schools and child care settings.
This article was originally published on