CDC Now Recommends Pregnant People Get COVID-19 Vaccine
The CDC officially recommends the use of the COVID-19 vaccine in pregnant people.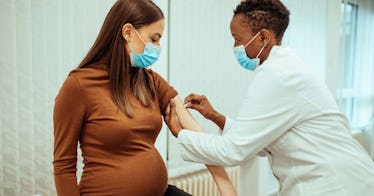 Until today, the CDC had so far stopped short of recommending that pregnant people get the COVID-19 vaccine, saying patients should talk to their doctors about their options.
But now, new data has shown that the vaccine is well tolerated in pregnant people and has led to no adverse pregnancy outcomes while protecting them against the deadly virus.
Because of that, CDC Director Rachelle Wolensky officially announced on Friday, April 23rd that the CDC recommends pregnant women get the COVID-19 vaccine.
Here's What's Going On
At the White House briefing, Walensky cited the recent study of thousands of pregnant people who received the vaccine to support the decision.
The study, which was conducted from pregnant people reporting their post-vaccine symptoms to a CDC app, found that pregnant people had similar side effects to nonpregnant people who received the vaccine and that there were no adverse pregnancy events that happened more often than in a general, normal pregnancy.
"No safety concerns were observed for people vaccinated in the third trimester or safety concerns for their babies," Walensky said. "As such the CDC recommends that pregnant people receive the COVID-19 vaccine."
Pregnancy and COVID-19 Are A Dangerous Mix
The CDC data reveals that the vaccine is safe for pregnant people, and is a necessary step forward in the fight to herd immunity and against COVID-19. And it's especially important in light of a study that found that of a few thousand pregnant people studied internationally, people who got COVID-19 while pregnant were 22 times more likely to die during their pregnancy or after giving birth.
They were also more likely to experience adverse pregnancy events like pre-term birth, pre-eclampsia, the need for intubation, and admittance into the ICU. The vaccine will protect pregnant people from the worst cases of COVID-19, therefore limiting their risk of getting and/or dying from the virus.
Get Vaccinated!
Knowing that the vaccine is safe for pregnant people — and will extremely limit the outsize risk of death for pregnant people who get COVID-19 — is a massive step forward in the health of expectant parents and their growing babies. Getting the vaccine will help you, your baby, and the people around you fight back against this deadly virus and survive major medical events like childbirth.
This article was originally published on