CDC Mask Mandate Forgets Kids. Here Are Parents' Real Options
Most kids are unvaccinated and will be for many months.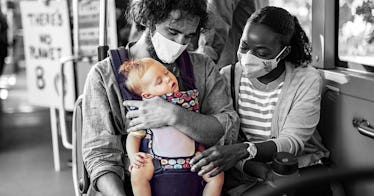 The Centers for Disease Control and Prevention announced on Thursday night that vaccinated Americans no longer have to wear masks in most contexts. The decision is a response to accumulating evidence that vaccinated Americans are extremely well-protected against COVID-19. This is welcome news for many vaccinated adults. But parents with unvaccinated kids are less enthused and more… confused.
This is everything parents need to know about the new CDC mask guidelines, the concerns experts have about them, and what they mean for families with unvaccinated kids.
The New CDC Guidelines for Mask-Wearing
The new CDC mask guidelines state that vaccinated people do not need to wear a mask in most settings, both indoor and outdoor.
The following are exceptions in which vaccinated people should continue to wear a mask:
When in jails, homeless shelters, and healthcare settings
When traveling on a plane, bus, train, or another form of public transportation, or when in a transit hub such as an airport or bus station
When required to by federal, state, local, tribal, or territorial laws
Immunocompromised people should discuss their options with their healthcare provider
In all other scenarios, including large indoor gatherings, vaccinated people do not need to wear masks.
The guidelines apply to people who are fully vaccinated, meaning people who have received their final dose of the COVID-19 vaccine at least two weeks ago.
What the Experts Think About the Move
It's extremely rare for vaccinated people to get seriously ill from COVID-19. Vaccinated people are also less likely to transmit the coronavirus if they're infected. Because the evidence strongly supports this move, many experts endorse the guidelines and hope they will encourage vaccine-hesitant people to get the shot.
"This shows tremendous confidence in how well the vaccines work," John Swartzberg, an infectious disease specialist at the University of California, Berkeley's School of Public Health, told the New York Times. "The CDC does have data to support this decision. It's not like they're operating on the fly."
When it comes to the unvaccinated or vaccine-hesitant, there are concerns. Experts are hopeful this move will encourage people to get vaccinated, but some fear that anti-maskers will take this as an opportunity to remove their masks for good even though they're unvaccinated. Leana Wen, an emergency physician and the former Health Commissioner of Baltimore, tweeted, "This does speak to the power of vaccines, but how can we be sure those around us are vaccinated? Not sure we all trust an honor code."
While the health of those who choose not to be vaccinated is a concern, there are bigger concerns for those who have medical conditions that don't allow them to be vaccinated. Worse yet, in the unvaccinated population, COVID may continue to spread and potentially mutate to a form that can get past the current vaccine defenses. This would put everyone at risk once again.
"Having seen the extreme selfishness of some Americans, I do not trust strangers not to go maskless in public while unvaccinated," Family physician Margaret Russell said in a tweet. "I will therefore do what is within my power to protect myself and my loved ones."
What About the Kids?
Pfizer's COVID-19 vaccine was just given emergency approval for use in kids aged 12 to 15, but most children aren't going to be able to get vaccinated for months. Despite their unique situation, the CDC did not offer special considerations for children in the new mask guidelines.
Although kids are at low risk for severe COVID-19, parents are concerned about taking their children out in public when unvaccinated people could be walking around maskless, pretending to be vaccinated. And they're pissed about it.
"I feel like everyone just forgot about all the unvaccinated little kids and their parents," tweeted one mom, adding, "Which I guess isn't much different than normal times."
"so now…we can't go anywhere with our kids bc no one will be wearing masks?" another parent tweeted. "i mean we are cautious but i have gone to a museum and bookstore with them. this sucks. kids are part of the world."
So far, the CDC has no answer. In response to a question about how the new mask guidelines apply to settings such as schools, CDC Director Rochelle Walensky said that the agency is working to release recommendations for summer camps and other locations as soon as possible.
What Parents Should Do Now
The short of it: Kids need to continue to wear masks, avoid prolonged exposure in crowded indoor places without mask requirements, and think twice about being indoors where there is anything even remotely resembling a maskless free-for-all.
Anthony Fauci, Director of the National Institute of Allergy and Infectious Diseases, said that kids must continue to wear masks. This means that parents need to wear masks too — not for their health, but for their kid's comfort. After all, children who go out in public and see adults without masks on may be reluctant to wear one themselves. Of course, children under age 2 can't wear masks at all, so they'll have no protection against anti-maskers posing as fully vaccinated and probably need to be kept on a relatively tight leash.
In other words, indoor fun is still not on for most families. The good news: There is vanishingly little evidence that the virus spreads in outdoor spaces. Add that to the fact that summer is around the corner and summer camp, parks, and even a visit to an amusement park are safe bets for most families. With parents protected, there's plenty of summer fun to be had for all.