CDC Map Shows The States That Should Be Masking After Updated Guidance
This "could have been avoided with higher vaccination coverage."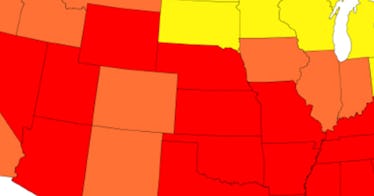 CDC
The pandemic isn't over, and now the Centers for Disease Control and Prevention (CDC) has come out with new guidelines regarding mask-wearing.
The CDC suggests fully vaccinated, and unvaccinated people wear masks in public indoor settings in its new recommendations, only in areas across the country where COVID-19 is spreading the fastest. (For unvaccinated people, you should be wearing a mask in basically most contexts.) And some states really need to be following this updated guidance.
Experts are worried about the Delta variant, which is causing cases to rise all over the country. Not only that, but research suggests that vaccinated people who have been infected with the Delta variant can still transmit the virus to others as readily as the unvaccinated. And that's the motivator behind the third change in guidance on indoor mask-wearing in just as many months.
The agency's new guidance isn't a universal one. Instead, it's recommended for areas where there are "substantial" or "high" numbers, meaning there's a positivity rate higher than 5 percent, or more than 50 cases per 100,000 people in the area. This is also the overall guidance that kids, teachers, and support staff from kindergarten through the end of high school all wear masks indoors when K-12 school opens again in the fall.
To help determine which states fall in the areas where a mask would be necessary indoors, the CDC has released an interactive map broken down into counties. And at first glance, a lot of the states fall in that "substantial" or "high" markers where masks are necessary.
According to the data provided by the CDC, 49.94 percent of counties across the US are considered "high risk," with an additional 16.68 percent landing in the "substantial" category based on cases of positivity. Some counties are currently in the "moderate" (24.75 percent) and "low" (8.6 percent) categories, but they're definitely the minority.
"It is not a welcome piece of news that masking is going to be a part of people's lives who have already been vaccinated," CDC Director Rochelle Walensky said. However, she notes that this "could have been avoided with higher vaccination coverage."