CDC: Kids Who Get COVID-19 Are at Much Higher Risk of Diabetes
The finding shows we have a lot to learn about the long-term effects of COVID-19.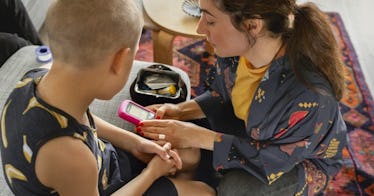 Johner Images/Getty Images
It looks like COVID-19 is the gift that no one asked for that keeps on giving. Friday, the Centers for Disease Control and Prevention (CDC) reported that children who tested positive for COVID are significantly more likely to develop diabetes than those with no history of COVID.
We've known for some time that the coronavirus can cause fairly serious, lingering health effects, a phenomenon called long hauler syndrome or long COVID. Symptoms of long COVID can range from cough, chest or stomach pain, and headache to organ and autoimmune disorders. But the recent diabetes findings show that we still have much to learn about the long-term effects of the virus and how it impacts our bodies.
The new CDC study examined data from two large U.S. insurance claim databases. The team looked for diabetes diagnoses in people age 18 and under starting March 1, 2020, and going out at least one year. They compared the number of diagnoses for those who had a previous COVID diagnosis to those who did not. Study participants were not required to be symptomatic for COVID, only that they tested positive more than 30 days before their diabetes diagnosis.
In one database, the researchers found that diabetes diagnoses were 2.6 times more likely in children who had previously had COVID than those who did not. The second database showed that post-COVID diabetes diagnoses were 30 percent more common in those with a history of COVID than in those without such a history.
"Even a 30 percent increase is a big increase in risk," the lead study author, Sharon Saydah, Ph.D., researcher at the CDC, told the New York Times. She explained that the disparity between the two databases is likely due to a difference in how each database classifies COVID diagnoses.
The researchers did not differentiate between type-1 and type-2 diabetes. Type-1 diabetes is a genetic disorder that generally manifests early in life, whereas type-2 diabetes is related to diet and lifestyle and can be reversed with changes to both of these. It's not yet clear whether the children in the study who developed diabetes will have the condition permanently. The data for most of the children in the study only spanned about four-and-a-half months.
Previous studies have found that adults also have an increased risk of diabetes following COVID, according to the New York Times.
The findings underscore how little experts currently understand about COVID's impacts on our bodies post-infection. They also highlight that the best offense is a good defense. "The increased diabetes risk among persons aged <18 years following COVID-19 highlights the importance of COVID-19 prevention strategies in this age group, including vaccination for all eligible persons and chronic disease prevention and treatment," wrote the research team.