What the New CDC Guidelines Say About Reopening Schools
Unfortunately, what they don't say might be even more important.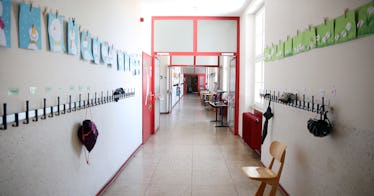 Getty
The Centers for Disease Control and Prevention has decision trees meant to help the people in charge of reopening different sectors of American life in the wake of COVID-19. There are six in total, covering mass transit, offices, restaurants and bars, child care programs, youth programs and camps, and schools
These one-page documents aren't the kind of specific, comprehensive guidance the agency wanted to release. Those plans were scuttled by Trump administration officials concerned that they were too prescriptive and might impinge the recovery of the economy. That is very bad, as it essentially limits the advice that the federal experts can provide to the people on the front lines.
The decision tree created for K-12 school administrators is typical of the six: useful as a starting point and not much else. It's framed around three sequential questions school administrators should ask, each augmented by clarifying prompts, that nevertheless leave lots of room for judgment calls at the local level.
The first big question: Should you consider opening? The CDC says you should do so if reopening is consistent with state and local orders, schools are ready to protect high-risk populations, and schools can screen students and staff upon arrival.
They all seem pretty obvious, and the latter two are vague enough to not be all that useful. What does "ready to protect" mean? What kind of screening should be used? It's up to administrators to find their own answers absent specifics from the public health experts at the CDC.
If a school district feels that it has satisfied those requirements, it can move onto the second question: Are recommended health and safety actions in place? This includes things like promoting hand washing and face masks, intensifying cleaning, encouraging social distancing, and training employees on health and safety protocols. Again, there's not a lot of detail on what any of these things should look like or what constitutes a safe level of anything.
Consider face masks. Should schools mandate masks for everyone who enters the building? Do they need to be medical grade? Do schools have to provide masks for their students in order to reopen safely? It's unclear, but if administrators decide that they have answered these questions satisfactorily, they can move on to the third and final question: Is ongoing monitoring in place?
While the longest, this section similarly suffers from a lack of specificity. At one point, "as feasible" is tacked on to the end of a recommendation, as if a necessary safety measure might not be that necessary if it's unfeasible, as if closing every non-essential public gathering place to save lives would have been considered feasible before the stakes became clear.
The document says that if administrators can answer "yes" to these three questions then they can "open and monitor." But it's hard to imagine feeling confident that reopenings are happening under the guidance of the CDC when these documents leave it up to non-experts to do so much of the decision-making themselves.