Dad's Viral TikTok of Toddler's Car Seat Escape Attempts Shows They Can't Be Trusted
Toddlers: you can't trust them farther than you can see them.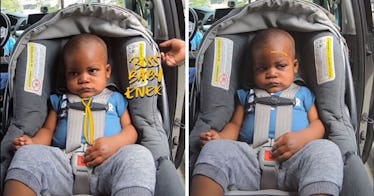 TikTok / @beleafinfatherhood
One of the things we learn pretty quickly as new parents are how important car seat safety is. We read up on the rules and guidelines, fuss over making sure the seat is installed correctly, and double-check the straps every time we lock them in.
It's one of the best ways to keep them safe in the car. It saves lives. But one dad learned pretty quickly that when it came to his toddler, it didn't matter how many times he checked that he was strapped in—the kid was going to escape on his own.
Glen Henry, a digital storyteller who runs Beleaf in Fatherhood, has a pretty famous TikTok profile. He shares snippets of life in his family, raising his four kids with his wife, Yvette, by his side. It's a mix of sweet and hilarious content, but one video of his toddler has captured the attention of millions.
In the video, Glen narrates a "Fatherhood breakdown" featuring his son Uziah, who was able to pull off the "escape of a lifetime." Yep, his 2-year-old son escaped from his car seat (but not while they are driving). Glen tells his son not to unbuckle the car seat in the clip after strapping him in and checking that everything was latched. His son, who doesn't seem impressed with what his dad is telling him, already looks like he's plotting his move as funny captions appear on the screen like "Boss Baby Energy" and "He's a wizard."
The second dad closes the door, Uziah looks around to see who is watching right before clipping off the harness of his car seat and "Hulk Hogans" his way out of the straps. "He has proved to me that nothing is baby-proof unless it is bulletproof," Glen says.