TikTok Of Toddler Tearfully Saying Bye To Grandpa Will Melt Your Heart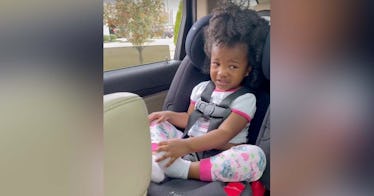 We've all had to make changes this year due to the pandemic, and it's not been easy. For families, not being able to rely on our village of people has been really challenging. Our kids haven't been able to spend time with their grandparents for a long time. But, as things shift and more places are easing restrictions, the joy of seeing our family is coming back. And for Camille Madeline, a toddler with a big presence on TikTok due to her parents posting videos of her, it's a dream come true because she loves her grandpa.
In the now-ultra-viral TikTok video, the toddler is sitting in the car, strapped in her car seat, and her mom, Colette, is getting ready to drive off. Outside the car is Camille's Pop-Pop. She has a special bond with her grandpa, and the two have the sweetest exchange saying goodbye to each other through the window. They share a few "see you later" after a playdate, blowing air kisses and waving.
As mom starts to drive, Camille Madeline turns to the camera. The smile fades from her face, and she starts to tear up. "I hope I see him," she says. Her love for her grandpa is heart-melting — it's the most darling thing. Her mom comforts Camille, letting her know that she will get to see her grandpa again soon. Camille wipes away her tears as her mom promises she will see him again soon.
The internet collectively felt for Camille Madeline at this moment. The video garnered over 160 thousand comments of all the feels people felt watching this. Even Ellen DeGeneres writes, "This is so beautiful. I hope they get to see each other again soon."
Camille's grandpa, Tony Collins, recorded his reaction to watching Camille after the two parted ways in a follow-up video. And it had people melting their hearts all over again. The grandpa/granddaughter bond is so special.
This article was originally published on