California Ski Resorts Will Be Open For "Summer Skiing" This Year
Skiing in June? Yes, really.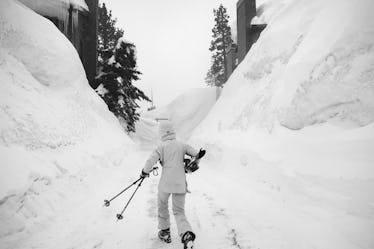 David McNew/Getty Images News/Getty Images
Spring is officially here, and summer won't be too far behind. While we're looking forward to warmer, sunnier weather, Tahoe, California will be keeping things cool, offering a typical winter activity well into the summer this year. If the family loves skiing, it might be time to book your summer ski trip. Yes, really.
According to CNN, the ski slopes will be open in the Tahoe area well into the summer this year. After a slew of unusual snowstorms over the winter that hit California and other western states, there's enough snow to carry the ski season not only in spring but through summer as well.
Palisades Tahoe announced it will stay open until the July 4 weekend, saying they experienced "Lake Tahoe's second snowiest winter on record." Mammoth Mountain also announced its skiing season will be open until "at least" the end of July.
"We aim to keep lifts spinning until as long as conditions allow, which definitely could go into August this season," communications director of Mammoth Mountain, Lauren Burke, said, per CNN. "Spring skiing and riding conditions are going to be the best we've ever seen with the mountain in mid-winter form."
Mammoth Mountain has already had more than 600 inches of snow, and this season is tracking to break the previous record set in 2010-2011 when the resort saw 668 inches during the snow season, according to a statement posted to the resort's Facebook page.
Several other ski resorts in California have confirmed additional days to the ski season. Heavenly Mountain Resort, Sugar Bowl Resort, NorthStar California, and Kirkwood Mountain Resort are adding additional days, per the Reno Gazette Journal and Tahoe Daily Tribune.
The intense weather conditions have led to some dangerous conditions across the state of California. "The state has been racked by powerful, atmospheric river storms that have brought a deluge of rain and snow after a yearslong, historic megadrought," CNN reports.
According to National Oceanic and Atmospheric Administration, the influx of snow and rain in California is likely to taper off in April.