California's Genius Free State Park Program Should Be Poached By Every State
You're able to access this perk through the library, as if it were a book.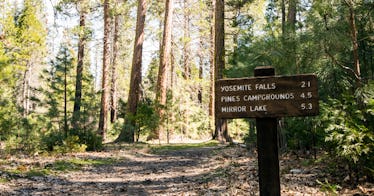 Ray Wise / Getty Images
The local library is an amazing place to take the kids when you're needing something to do. And now that library card can unlock another perk – admission to national parks for free. But only in California. However, the program is so cool that probably every state should pick it up.
A three-year pilot program in California has been launched between California State Parks, California State Library, and the First Partner's Office with the goal of giving better access to state national parks to all Californians.
"Spending time in nature is crucial to our mental health and well-being," First Partner Jennifer Siebel Newsom said in a release. "We're lucky to have the largest state park system in the nation, and I am thrilled to partner with California State Parks and the California State Library to help make those spaces more accessible to California families."
Essentially, if you hold a library card in the state, you're now able to access over 200 state parks at no extra charge. And you're able to access this perk through the library as if it were a book.
The California State Library Parks Pass allows cardholders to "check out" the pass at the library, which then gives a free vehicle day-use pass. "Each library will get three passes and decides how many days people can check out the pass," KCRA News reports. "The pass is good for one vehicle with up to nine people inside. It can not be used for camping, boat use, group use or special events."
The $9.1 million pilot program is funded through the state's 2021-22 general fund budget, and is intended to be a one-time investment to "launch a state parks pilot to expand parks pass distribution, especially for youth in disadvantaged communities."
"All Californians should have the opportunity to be outdoors in nature," California Secretary for Natural Resources Wade Crowfoot said in a release. "Yet many of our state's residents live in communities without adequate parks and open space. This innovative new program will enable more Californians to explore our incredible State Parks system, and in the process create more equitable access to nature and the outdoors."
We're all for programs that give kids more access to the outdoors so they can explore, and this pilot program sounds perfect and one that every state should budget to be able to offer. If you live in California, more details—including the few parks not included in the pilot program—can be found here.
This article was originally published on