California Movie Theaters Are Reopening This Week
Here's what it means, and how its happening.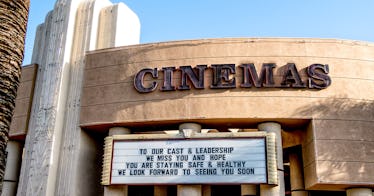 Russ Allison Loar/Flickr
While most movie theaters are on track to reopen on July 17 for the debut of the new Christopher Nolan film Tenet, some movie theaters in California are set to re-open this week. Movie theaters that have been permitted to reopen will have to do so under state health guidelines that were released on Monday, June 8, and will have to meet state criteria of coronavirus numbers before they can meet the conditions to re-open.
Currently, only a few counties meet the Covid-numbers conditions to reopen their movie theaters. The guidelines for re-opening are pretty intense. Namely, the state requires that theaters limit showings to 25 percent of capacity or a maximum of 100 movie-goers. theaters will also set up reservation systems so that customers arrive in staggered groups, not en masse, and will have to have separate entry and exit points like many grocery stores have created to limit folks passing by one another.
Theaters will also have to ensure that moviegoers sit at least six feet apart from one another if they aren't in the same group, and while not required, disposable seat covers are recommended to limit the spread of germs, as is keeping doors open during business hours and mandating face coverings on customers when they're not eating or drinking.
It's unclear what movies will be shown at this point. Movie theaters that have already opened have tended, so far, to rerun older movies for nostalgia plays.
This article was originally published on