California Could Become The First State To Have a 4-Day Work Week — Here's What to Know
The four-day workweek could come to an entire state soon.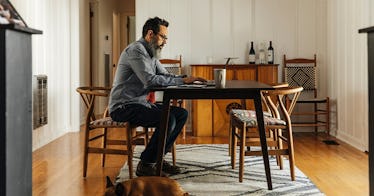 California could become the first state in the U.S. to have a mandated four-day workweek after the state legislators introduced a bill that would shorten the current workweek from 40 hours to 32.
The proposal, Assembly Bill 2932, would require any employer with more than 500 workers to shorten required hours and mandate overtime pay for any hours worked over 32. Currently, the federally recognized workweek is 40 hours, with overtime earned for hours worked in excess of 40. Introduced by Los Angeles County Representative Cristina Garcia, the legislation also states that employers may not decrease workers' pay rates in response to the shortened workweek.
"We've had a five-day workweek since the Industrial Revolution," Garcia told the Los Angeles Times, "but we've had a lot of progress in society, and we've had a lot of advancements. I think the pandemic right now allows us the opportunity to rethink things, to reimagine things."
Currently, no other states have implemented such legislation, though a number of U.S. companies have embraced the four-day workweek with positive results. Bolt and Buffer, two tech companies that have joined the four-day revolution, reported the majority of their employees felt they had a greater work-life balance and did not struggle to complete their work over the shortened week. And a massive pilot program across North America has 38 different companies taking part in their own four-day workweek pilots.
The bill comes at a time when the four-day workweek is gaining steam not just in the U.S. but around the world. Several European countries, including Belgium, Ireland, and Spain, are piloting four-day workweeks after Iceland experienced unprecedented success with its truncated workweek trial.
Research has shown that a shortened workweek boosts employee morale, improves worker mental health, strengthens families, and increases worker productivity. Moreover, a shortened workweek lowers overhead for employers, and companies experience less turnover.
Lawmakers at the federal level have also shown an interest in the changing workweek landscape. Last year, California Representative Mark Takano introduced the Thirty-Two-Hour Workweek Act, a bill that would redefine the workweek as Americans have known it since 1940. Supported by the Congressional Progressive Caucus, the bill would shorten the workweek to 32 hours, and employers would be required to pay time-and-half overtime for any additional hours worked.
"A shorter workweek would benefit both employers and employees alike," Takano said after the bill was introduced. "Pilot programs run by governments and businesses across the globe have shown promising results as productivity climbed and workers reported better work-life balance, less need to take sick days, heightened morale, and lower childcare expenses because they had more time with their family and children."
"After a nearly two-year-long pandemic that forced millions of people to explore remote work options, it's safe to say that we can't – and shouldn't – simply go back to normal because normal wasn't working," Takano said. "People were spending more time at work, less time with loved ones, their health and well-being were worsening, and all the while, their pay has remained stagnant. This is a serious problem."