California Bill Would Make Kid Sections In Stores Gender Neutral
The bill was inspired by a kid who asked why she had to go to the "boys section" of stores to find science toys.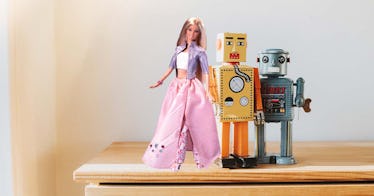 A proposed bill in California would eliminate the boys and girls sections at large stores by requiring them to make kids sections gender-neutral.
Assembly Bill 2826 was co-authored by State Assembly members Evan Low, who chairs California's Legislative LGBT Caucus, and Cristina Garcia, who chairs the California Legislative Women's Caucus. Low tweeted "let kids be kids" in reference to the bill, which if passed would go into effect on January 1, 2024.
"Rather than having a separate boys or girls section, let's just have a kids section," Low told KPIX-TV. "And that's what the conversation is about."
The bill would primarily affect department stores, as only retailers with 500 or more employees would be required "to maintain undivided areas of its sales floor where the majority of those items being offered are displayed, regardless of whether an item has traditionally been marketed for either girls or for boys," according to the Legislative Counsel's digest of the bill.
Additionally, signs that indicated whether a toy or clothing item was designated for boys or girls would be prohibited. And the bill would even apply to large online retailers that have a physical presence in California, as they would also be required to avoid gendered labels for their kids' items. Stores in violation of the policy would face a $1,000 fine.
Low said that he was initially inspired when one of his staffers' nine-year-old daughter asked why she had to go to the boys' section of stores in order to find science-related toys. Hearing that made him feel that he needed to help create "a safe space today for children in society." Low was also inspired by Target's decision to do away with gendered kids signage back in 2015.
"As much as I'd like to think of this as watershed legislation, this is something the industry is already doing. We're just trying to play catch up," he told the Sacramento Bee.
This article was originally published on