Bullying Rates For LGBTQ+ Kids Are Way Too High — Here's How Parents Can Help
Both in-person and online bullying is having a damaging cascading effect.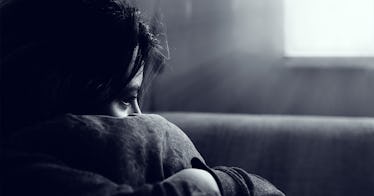 Bullying has been an ongoing issue for our kids and teens—both in person and online. While there have been some great strides made at combatting the issue, a recent report reveals bullying rates among the LGBTQ+ community continues to be a widespread issue. Here's what parents need to know.
A recent report released by The Trevor Project analyzed the effect bullying has on LGBTQ+ kids. The conclusions from the survey point to the widespread issue and underscores the negative impacts bullying can have on a person's wellbeing.
The new details take data from the 2021 National Survey on LGBTQ Youth Mental Health, a survey done by The Trevor Project, which nearly 35,000 LGBTQ+ young people completed. The youth, who ranged in age between 13 to 24, answered questions on several topics, including bullying, conversion therapy, and how the COVID-19 pandemic is impacting their lives.
The survey has some significant results, explicitly showing that in-person and digital bullying is still way too high for LGBTQ+ students. For example, the survey results show that 52 percent of LGBTQ+ young people in middle or high school reported being on the receiving end of in-person or electronic bullying within the past year.
What the numbers say for LGBTQ youth experiencing bullying
What can schools and parents do to help reduce bullying rates for LGBTQ+ youth?