A US Company's 4 Day Workweek Trial Was So Successful, It's Permanent
91 percent of employees said they were happier than when they had a 40-hour workweek.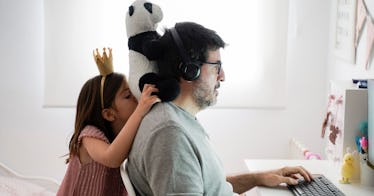 La Bicicleta Vermella / Getty Images
During the early days of Covid lockdown, companies worldwide made tweaks to better accommodate the paradigm shift of working from home. Social media company Buffer, whose staff of 84 was already completely remote, decided to trial a four-day workweek to help workers cope with the changing landscape of pandemic times. Now, almost two years later, that shift has become permanent, and the staff is happier than ever.
The trend toward a four-day, thirty-two-hour work week has been gaining steam across the globe. A trial in Iceland was a resounding success, and companies in Belgium, the U.K., Ireland, New Zealand, and Australia were quick to hop on the bandwagon and start trials of their own. Though the U.S. has yet to make a widespread shift to the 32-hour week, several U.S.-based companies have given the four-day workweek a go and have had promising results.
Buffer is the latest U.S. company to realize the benefits. Buffer execs surveyed their staff to find out what would ease the pain and confusion we all faced during the early (and late) days of the pandemic.
"The combined survey of our teammates and increasing global proof that the four-day workweek could be a good solution is what spawned our one-month trial," explained Buffer's Director of People, Nicole Miller, in a post on the company's website. "After that trial, we saw that not only had happiness and stress improved, but productivity hadn't dipped. We opted for a 6-month trial to validate if this was a sustainable practice, and it was."
Per CNBC, 91 percent of employees at Buffer say they're happier with the 32-hour workweek, and 73 percent of them are working on the shorter schedule, however they want to take those 32 hours. The rest of the survey respondents still work less, on average, 4.5 workdays a week. 84 percent said they were able to get the work done that they needed to in the new schedule.
Companies that have trialed four-day workweeks found that worker happiness and satisfaction increased, less employee burnout, and equal levels of productivity. Employees were able to strike that elusive work-life balance we all crave, and parents found that they had more time to spend with their children. The concept of a shortened workweek is so enticing that one survey found that 42% of managers were considering making the switch.
In follow-up surveys, Buffer employees reported less stress, more happiness, increased sense of autonomy, and as productive or more productive than they were with a five-day workweek.
Though the program at Buffer has been successful, there were a few bumps in the road. Figuring out how to transition to four days and still get the work done was a challenge, according to Hailley Griffis, Buffer's PR head. The short-term instinct is to do things the way they were in four days and power through," Griffis told CNBC. "But in the long-term, you have to question: How should we do things differently?"
All in all, the 84-person company is riding a wave of success with its transition, and with any luck, more U.S. companies will realize the benefits and follow in its footsteps.
This article was originally published on