A Famous Bruce Willis Movie Seems to Be Coming True
"You gotta have some kind of backup plan, right?"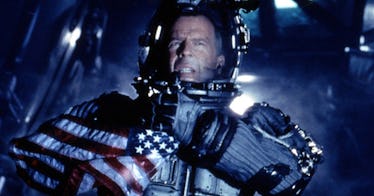 Walt Disney Studios Motion Pictures
It's not uncommon for a movie to be made about a historical event or an influential person. Loads of stories are based on real-life that go on to be a successful Blockbuster. But rarely do we get a real-life event that mimics an older sci-fi movie – especially one where the plot seems totally outlandish. But it's that seems to be happening with a classic Bruce Willis movie… and a real-life NASA program.
Bruce has been an action movie star for decades. And he's got some movies that are more famous than others. When Bruce started trending on Twitter at the end of November, we initially assumed the annual "is Die Hard a Christmas movie?" debate had begun. It happens every year, and yes, it's a Christmas movie. But he was trending for another one of his famous movies.
Armageddon.
The plotline of the 1998 movie seems so far-fetched. "After discovering that an asteroid the size of Texas is going to impact Earth in less than a month, NASA recruits a misfit team of deep-core drillers to save the planet," the description reads on IMDb.
The movie was full of slow-motion walking, perfectly timed Aerosmith songs, and people recruited to help prevent a seemingly impossible natural disaster. Nothing similar had happened in real life so there was no question it was based on sci-fi and not a biopic.
ArmageddonAssociated PressDeadline