Brookstone, Home of Mall Gadgets and Massage Chairs, Has Filed for Bankruptcy
So long to the pleather massage chairs and the noise-cancelling headphones and the fancy fountains.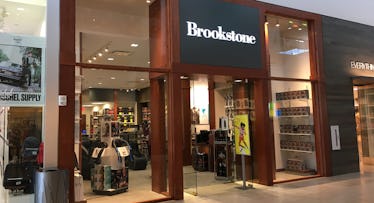 Phillip Pessar/Flickr
Brookstone, the quintessential 'specialty' tech goods retailer known for being a go-to spot for bored dads in every neighborhood mall, just filed for Chapter 11 bankruptcy protection on Thursday. As a result of that filing, they will also be closing all of their mall-based stores. Among other reasons, the largest contributor to falling sales for Brookstone was decreased foot traffic, which has been affecting malls across the country.
The company will liquidate their extensive stock of pleather massage chairs, drones, iPhone speakers, and electric wine bottle openers unless someone buys the company out — which seems unlikely, given that in-person shopping has been declining as e-commerce explodes.
For Brookstone, this is not the first time they have been forced to file for bankruptcy. They did so just four years ago and were saved from certain closure when Chinese company Sanpower Group bought them out. Their overall sales have dropped 33 percent since 2016 and although they hope to keep the 35 stores they have outside of shopping malls open, Brookstone's future seems unclear given the downfall of other beloved retail giants like Toys R Us and the general decline of sales at brick and mortar store locations.
But for mall-goers, the death of Brookstone marks a particularly sad note. Walking past the store, filled to the brim with useless tech-gadgets, and taking a seat in one of their massage chairs was a delight of pre-teens and dads at the mall alike; it provided a respite for people who didn't have much money to spend but did have lots of time to kill. Although the floating thermometers and the alarm clocks and the fitness gear will no longer exist in its hallowed corner of the mall, the brief respite from mall chaos will never be forgotten.
This article was originally published on