A Kid Was Brutally Mocked at a Soccer Game. But There's a Happy Twist
After a young Germany supporter was viciously mocked online by adult weirdos, people stepped in to give the story a happy (and charitable) ending.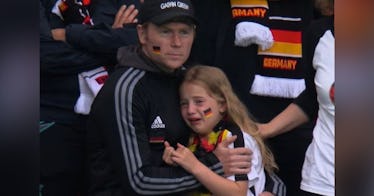 BBC
We all know that the world can be cruel sometimes, but getting reminders of how cruel the world can be is no fun. A recent story about a little girl who was ruthlessly teased because she was emotional at a soccer game (in this case, Germany v. England) is next-level horrible.
It's beyond to think why grown adults would take pleasure in making fun of a little girl. But thankfully, a Welsh soccer fan stepped in reinforce everyone's faith in humanity with some massive charitable giving.
According to Insider, the young girl who went viral — and was subsequently viciously mocked — was at the England v. Germany game, dressed in a German uniform, with the German flag painted on her cheeks. She was there to cheer on her team, who was playing against England. But her team lost, and she was upset. And her crying face was broadcast to the world after the game.
It should have been a sweet, if sad, moment of a young kid being absolutely super passionate about one of the greatest sports known to man. Instead, opposing soccer fans decided to be the worst, and relentlessly teased the literal child online. They tweeted cruel jokes about a little girl who doesn't look like she's older than 10-years-old.
This article was originally published on