Breastfeeding Olympians Finally Allowed to Bring Infants to Tokyo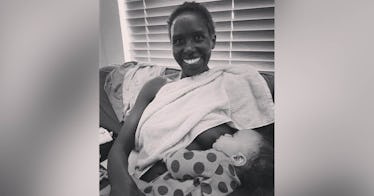 aliphine @ instagram
The International Olympic Committee finally announced that athletes who are breastfeeding will be allowed to bring their children to Tokyo later this month. Previously, athletes were restricted from bringing their family members due to the ongoing pandemic but "after careful consideration of the unique situation facing athletes with nursing children," the Tokyo Organizing Committee that a special exception would be made for breastfeeding athletes.
"We are very pleased to hear that the Tokyo 2020 Organizing Committee has found a special solution regarding the entry to Japan for mothers who are breastfeeding and their young children," the IOC spokesperson said.
This decision was long overdue. One, breastfeeding should not be the thing that keeps you from being able to do your job, as it's a basic workplace accommodation and the Olympics are, functionally, a workplace for athletes. New parents should not be forced to be separated from their kids. Several athletes had publicly commiserated about having to choose between participating in the Olympics and being with their children, including American soccer player Alex Morgan. The 31-year-old is the mother of a one-year-old and said that breastfeeding athletes should not have to leave their children to compete.
"It's important to allow mothers the option to have their kids with them when they compete," Morgan said in April. "If a child is under 1 or 2, they might still be breastfeeding, so that's a huge piece of it."
Before the restrictions were eased, long-distance runner Aliphine Tuliamuk posted an emotional message on Instagram about how painful it was thinking of separating from her five-month-old daughter.
"I had been putting off thinking about Zoe not coming to Tokyo with me for a while now, but I had to start to, at team processing a week ago in Eugene, and I have cried a lot since," she said. "I know that I will be leaving her for only 10 days, and she will be just fine, and that so many other moms have done the same, but I can't even imagine being away from her for half a day."
Fortunately, Tuliamuk, Morgan, and other breastfeeding athletes will only have to imagine being away from their kids thanks to the Organization Committee's new special exception.