Brace Yourselves — Student Loan Payments Are Restarting
Despite Biden's promises to cancel up to $10,000 in student debt, nothing is changing on the student loan debt front.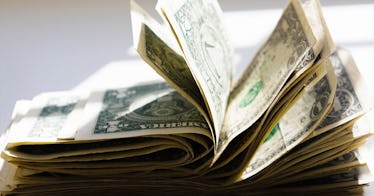 You may have been living a life without student loans for the last 17 months — and what a relief that was — but student loan repayment starts again In January 2022, and for 43 million U.S. borrowers, the timing couldn't be worse.
On the plus side, if there is one, with the resumption of loan payments also comes a new way to pay. Instead of dealing directly with loan services, recipients of federally backed student loans will soon have the option of paying through the newly established StudentAid.gov loan servicing portal. The goal is to provide a more streamlined process for repayment of all federal loans, though it may take some time to move every loan servicer to the portal. The goal for the portal is to allow people to "apply for, manage, and repay their loans without having to visit multiple websites and manage multiple sets of credentials," according to the Department of Education.
Many borrowers, despite the time off from repayment, are concerned that resuming payments will cause financial strain. With ballooning inflation, the loss of the monthly Child Tax Credit payments, and the looming specter of the Omicron Covid-19 variant looming over the economic landscape, many financial experts agree.
A recent survey found that 89% of fully employed borrowers feel they aren't in a financial position to begin repayment on February 1st and 27% say that at least 30% of their current income will go toward student loan repayment when the moratorium ends.
Exorbitant loan balances that take not years but decades to pay off prevent U.S. borrowers, many of whom are parents from saving for retirement, putting money towards their children's education, and becoming homeowners, which is bad news for the economy as a whole.
As part of his campaign, President Biden promised to cancel a minimum of $10,000 in student debt per borrower—a promise he has not yet lived up to. The announcement that he would not be extending the student loan payment moratorium is leaving many voters feeling betrayed. While $10,000 per person would certainly be a boon, it's a drop in the bucket compared to the $1.3 trillion currently owed in outstanding student debt that President Biden could cancel by simply signing his name to an executive order. Unfortunately, for the 43 million borrowers and the rest of Americans who will be impacted by such a large hit to the economy when payments resume, it seems that neither outcome is likely any time soon.