Pfizer CEO Says COVID Booster Needed Within a Year of Vaccination
What you need to know about a potential third shot.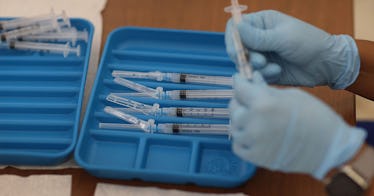 GETTY
In the United States, all adults are eligible for the COVID-19 vaccine, and many have been full vaccinated for about six months. Now that the vaccination campaign is further along, discussions about COVID-19 booster shots have begun. Vaccine companies are starting to hint at a timeline as to when they will be rolling out boosters.
During an Axios event on May 20, Anthony Fauci, the top infectious disease specialist in the US, and Pfizer chairman & CEO Albert Bourla spoke about the vaccination program and how they see the pandemic unfolding in the near future. Both agreed that booster shots will be necessary for long-term protection against COVID-19.
"I think we will almost certainly require a booster sometime within a year or so after getting the primary [shot] because the durability of protection against coronaviruses is generally not lifelong," Fauci told Axios' Mike Allen at the event.
"The data that I see coming, they are supporting the notion that likely there will be a need for a booster somewhere between 8 and 12 months [after the first shot]," Bourla added.
Some experts have suggested that we may need to get a COVID-19 vaccination each year, like a yearly flu shot.
However, several top COVID-19 scientists have questioned whether COVID-19 booster shots will be necessary at all. Early data has shown that the Pfizer vaccine is effective for at least six months — and protection doesn't just disappear overnight. Monica Gandhi, an infectious disease specialist at the University of California, San Francisco, has pointed out that vaccine trial participants received their shots in the summer of 2020, and they have reported few if any breakthrough infections, despite being nearly a year out from their initial vaccination.
Pfizer and Moderna have both announced that they are developing boosters that will target specific COVID-19 variants. Although evidence suggests that the currently available vaccines offer protection against the UK, Brazil, and South Africa variants, they aren't quite as effective against them. The boosters could make up for those gaps. Moderna expects its booster that targets the South Africa variant to be available this fall.
In the US, nearly 61 percent of adults are at least partially vaccinated, and 48 percent are fully vaccinated. To target variants and stay safe in the long run, they may need to get a booster. After all, COVID-19 isn't going away anytime soon. The virus will likely continue to circulate around the world, but as more people get vaccinated — and get boosters as needed — it will become far less dangerous.