What CDC's Booster Shot Recommendations Actually Mean for You
After the FDA's approval of boosters, the CDC weighed in with an official recommendation — here's what it means.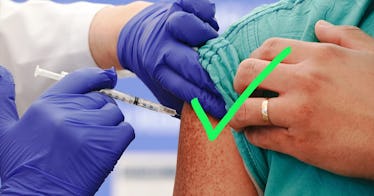 On October 20th, the Food and Drug Administration (FDA) approved booster shots of the COVID-19 vaccines for certain populations. It also approved, for the first time, a mix and match approach to booster shots.
It doesn't matter what initial vaccine you received; you could get, say, a Pfizer booster after a Moderna inoculation or a Moderna shot after a J&J initial dose. The people who qualify for boosters, per FDA approval, include anyone who received the Johnson & Johnson vaccine and people of certain ages and health conditions who received the Moderna and Pfizer vaccines. Days after the FDA approval, the U.S. Centers for Disease Control and Prevention (CDC) followed suit and officially recommended booster shots.
Although the FDA had approved the COVID booster shots, the final recommendation had to come from the CDC — and now that's happened. With the approval, the agency has outlined which vaccines are approved for a booster shot, who should line up for a booster first, and when the best time to get another dose is.
"Eligible individuals may choose which vaccine they receive as a booster dose," the CDC states. "Some people may have a preference for the vaccine type that they originally received, and others may prefer to get a different booster. CDC's recommendations now allow for this type of mix and match dosing for booster shots."
What Does the CDC Recommendation Mean, Practically?
In most contexts, the FDA has sole power over approving new vaccines and medicines for use by the American public. But COVID-19 is a slightly different animal. Because the CDC is "the body responsible for managing U.S. public vaccination programs," per The Conversation, the CDC needs to recommend the booster shot program — or any COVID-19 vaccine, for that matter — in order for distribution of the vaccines to begin.
Now that the CDC's recommendations are in, operation booster-shot-for-some-not-all is a go. Here's what to know.
Who Should Get a COVID-19 Booster Shot?
According to the CDC's new recommendations, the following groups who received a Moderna or Pfizer vaccine should get a booster:
Adults 65 years and older
Adults age 18+ who live in long-term care settings
Adults age 18+ who have underlying medical conditions
Adults age 18+ who work or live in high-risk settings
According to the CDC's new recommendations, the following groups who received a Johnson & Johnson vaccine should get a booster:
Booster shots are recommended for anyone who is 18 and older who received their initial vaccination of Johnson & Johnson two or more months ago.
The agency recommends that people who qualify for a booster get one if it's been 6 months or more since their initial series of shots if they received Pfizer or Moderna, or two or more months after receiving the Johnson & Johnson vaccine.
"These recommendations are another example of our fundamental commitment to protect as many people as possible from COVID-19," Walensky said. "The evidence shows that all three COVID-19 vaccines authorized in the United States are safe – as demonstrated by the over 400 million vaccine doses already given. And they are all highly effective in reducing the risk of severe disease, hospitalization, and death, even in the midst of the widely circulating Delta variant."
Of course, the agency also reminded people who haven't received or completed their initial series of vaccines to do so as soon as possible. And while the CDC's final guidance does mean that people not technically in the approval matrix for the COVID-19 vaccine could still get boosters — just unauthorized ones — however, that raises a ton of ethical problems.