Vast Majority of Americans Think Book Bans are Total BS
Most in the US don't support banning books at our kids' schools, and think that teaching children about race .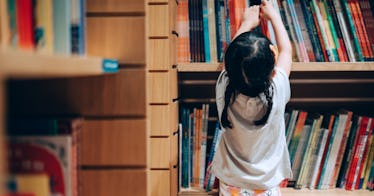 d3sign / Getty Images
Over the past several months, parents and school boards across the country have been all up in arms over books found in the libraries and on curricula at their kids' schools.
But as a nationwide push against critical race theory and books about LGBTQ+ people has taken hold and led to classics like Maus and The Bluest Eye being banned from classrooms, a new poll shows that a large portion of Americans disagrees with banning books. Here's what you need to know.
In conjunction with YouGov, a CBS News survey was conducted between February 15-18, 2022, and received a sample of 2,494 U.S. adult residents. And it showed, overwhelmingly, that most in the U.S. don't support the school boards moving forward with banning books. More than eight in 10 people don't think books should be banned from schools if the books discuss race, slavery, or criticize the history of the United States.
The poll shows that the majority of people feel that teaching about race in schools helps students understand what others went through (68 percent) and makes students more racially tolerant today (42 percent). Only sixteen percent answered they believe teaching about race in schools helps students be less racially tolerant today.
"Americans are okay with the broader notion of public schools teaching about ideas and historical events that might make some students uncomfortable," CBS News reports. "By contrast, the idea that teaching about race makes students feel guilty about past generations or makes them less racially tolerant today gets little traction with most Americans."
When participants were asked specifically about Critical Race Theory (CRT), a topic that has been debated over the past several months, there's a clear partisan split between people who have heard about the CRT and those who haven't.
"Only one-third of Americans have heard a lot about it," CBS News reports. "These numbers are much higher among self-described conservatives, and among Republicans, likely reflecting the emphasis on it from their party members and candidates."
Over the past several months, school boards and politicians, primarily in Republican states, have voiced concern over the topics and books available at their kids' school libraries. Primarily these concerns have been centered around race or LGBTQ subjects.
It's important to note that the conversation isn't just about removing books from school curricula across the country. It's also about the very kids and parents in the schools and states themselves. Banning books takes away the ability for kids to gain perspective, and it invalidates the reality of many families.