Bob Saget Comforting 'Olaf' Actor's Kid Is Pure Gold
"Hard to watch through tears, but this was the essence of the selfless, genuine, beautiful, loving soul that was Bob Saget."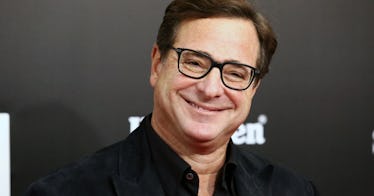 Astrid Stawiarz / Stringer / Getty Images
The world lost a funny and kind soul earlier this week when Bob Saget, America's dad, died. His death was abrupt and as people try to grapple with the reality that he's gone, stories about who we was as a person are resurfacing. One video in particular has tugged at people's heartstrings after seeing Bob comfort kids during pandemic lockdown.
According to HuffPost, fellow celebrity and voice of Olaf in Frozen, Josh Gad, took to social media to share a sweet story about Bob and the kind and generous person he was. Posting to Instagram on Monday, January 10, Josh explained in the caption that a year ago he had a conversation with Bob about how his daughters' favorite show was Full House, and they found comfort in the show during the "darkness" of the coronavirus pandemic.
"Within minutes I received this video," Josh explained. "I truly hope it brings you the same smile & joy it brought our family. Hard to watch through tears, but this was the essence of the selfless, genuine, beautiful, loving soul that was Bob Saget."
Josh then shared the video Bob sent to him a year prior, joking about Danny Tanner, the character he played on the sitcom.
"I use hand sanitizer all day long. Literally, it's always at my disposal," he told Josh's girls, Ava and Isabella who are now 11 and 7. "I have a cleaning rag that's microfiber. I have become Danny Tanner."
He also told Josh's kids, Ava and Isabella who are now 11 and 7 years old, how amazing their dad is and how much he loved them. Watching the video, it's easy to see why Josh was so moved by it, that Bob had taken the time out of his day to comfort Josh's girls.
Later, Josh told Today that he, too, had a connection to Danny Tanner when he was younger. "And as Danny Tanner was a surrogate father to me after my parents got divorced and I was growing up watching Full House, and him being this anchor keeping his family together, watching my girls process this trauma of this sort of loss they were going through with COVID was sort of one of the greatest gifts I could have ever imagined," Josh explained.
Social media has been flooded with beautiful memories of Bob since the new of his sudden passing hit the news.
This article was originally published on