Blood Test That Detects 50+ Types of Cancer Just Got Approved for a Pilot
The blood test could make it easier to detect cancers before there are even symptoms of the disease.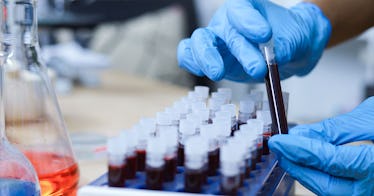 A new blood test being piloted by the NHS, England's public health care program, can reportedly detect more than 50 types of different cancer, and much of the time, can detect cancer before anyone starts showing symptoms.
The test can show whether or not you have one of the over 50 types of cancer before you begin to exhibit any symptoms of disease, and is aimed specifically at patients 50 or older or those who are at higher risk of cancer.
The test itself is a modern marvel of medicine — and can identify cancers that are harder to diagnose at a critical junction, like blood cancers, ovarian cancer, pancreatic cancer, and more. The test, which will be rolled out in the fall in the UK and be studied on 140,000 participants, will have full results in 2023.
In the meantime, the outlook on the future of cancer detection is very good.
Mainly, being able to detect cancer before symptoms arise could very quickly save lives — the earlier cancer is diagnosed, the better. And in fact, the earlier cancer is detected, the more likely it is to be curable.
That's not to mention that promising data that the NHS and Grail, the US company that developed the blood test, found. The test has an extremely low false-positive rate based on findings published in the Annals of Oncology.
Those findings found that the blood test identified when cancer was present in over half of cases and only had a false positive rate of .5 percent. One of the most promising findings was that the test was twice as likely to detect cancer in tumors that can't be screened (liver cancer, for ex.) than for tumors that can be tested (breast, etc.) The blood test could also find where the cancer was in the body in almost 89 percent of cases.
Speaking to The Guardian, the first author on the research, Dr. Eric Klein, said, "These data suggest that, if used alongside existing screening tests, the multi-cancer detection test could have a profound impact on how cancer is detected and, ultimately, public health."
The full study results won't be available until 2023, but in the meantime, it charts a future of cancer screening that could save lives. An NHS official, Dr. Marco Gerlinger, said, "it already allows a glance at early cancer detection in the future which will almost certainly be built around liquid biopsy tests, which detect cancer DNA in the bloodstream."