The Real Blippi is a Dad — And His Baby's Name is Super Unique
The icon of kid's entertainment has officially joined the Dad Club.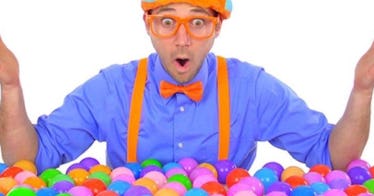 stevinwjohn @ instagram
Blippi is the $#!t. Blippi made a name for himself with his wildly popular YouTube channel and now the children's entertainer has officially joined the Dad Club, as Stevin John, the man who plays the real Blippi — notably NOT the Blippi imposter who was on tour — announced that his fiancée Alyssa Ingham gave birth to their first child together last week, and shared their son's unique name.
Lochlan David John was born on March 9 and Stevin told Parents that Lochlan is "so cute" and said that it "has been heaven having him with us." Stevin and Alyssa shared the first photos of them with their newborn son and they could not look more delighted about entering parenthood.
Despite being new to fatherhood, Stevin is no stranger to the world of making kids laugh and learn. He developed Blippi way back in 2013 and in the years since the character has become a phenomenon in the world of kid's entertainment, with his YouTube videos regularly getting millions of views from his young fans. Of course, his meteoric rise to kid's fame hasn't been without controversy — few can forget his past as Steezy Grossman, a character he donned years ago who took a poop on a friend in a viral video from 2013 to the "Harlem Shake" song and viral trend. But all that being said, his content as Blippi is solidly popular and appropriate kids content that has nothing to do with his Steezy past.
These days, Blippi has been described as "a uniquely millennial hybrid of Mister Rogers and Jake Paul," as Stevin brings an unabashed enthusiasm and childlike sense of wonder to his performance that clearly resonates with kids. Stevin believes that his experience as Blippi has prepared him to be a dad and he is excited to instill a sense of curiosity and imagination into his son.
"Since I'm a very curious person and want to learn everything—that's why Blippi videos are the way they are—I am very excited to teach our own child the curiosities and joys of life," says Stevin. "I had an amazing childhood and spent a lot of time outdoors, so I am excited to experience that through his viewpoint."
This article was originally published on