The Birth Rate Is Plummeting — And We Knows Who's To Blame
Stop pointing fingers at young couples, says one study. They aren't having kids for a very good reason.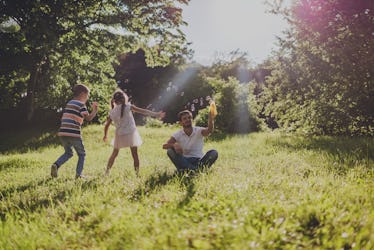 SanyaSM/E+/Getty Images
There has been a lot of buzz in the media over the last few years around declining population growth — people aren't having as many babies as they used to, especially in the United States. The birth rate in the U.S. has indeed been in steady decline since around 2007. Spurred by the Great Recession of 2008-2010, the birth dropped to 1.71 in 2019, the lowest since the 1970s. And although it's gone up since then, the birth rate has remained relatively low.
Alongside the decline in birth rate has come widespread speculation that a population collapse is looming on the horizon, which could result in economic upheaval — and, if you're prone to flights of whimsy, a Mad Max meets the Wild West-style dystopian future.
According to a new study, however, the plummeting U.S. birth rate is not because people want to have fewer children than their parents and grandparents did; it's likely that they're scared to have any kids at all. In case you haven't been paying attention, things aren't great for parents in the U.S., and many people of child-bearing age are playing it safe and waiting to see if conditions improve before having a baby.
"It's hard to have children in the United States right now," said study co-author Sarah Hayford, director of Ohio State University's Institute for Population Research. "People feel more worried about the future than they might have been several decades ago. They worry about the economy, child care, and whether they can afford to have children."
Hayford's team asked 13 cohorts of women and ten cohorts of men born between the 1960s and 2000s about the number of children they would like to have. The average number they reported was not dramatically different compared to the number of children people in previous generations wanted. Hayford's study groups reported wanting 2.1 children, compared to 2.2 children in the early 1960s.
"Americans have been pretty consistent with how many children they say they want to have from the 60s to the 2000s. Men generally say they want slightly fewer children than women do, but, like women, their preferred number of children hasn't changed much," Hayford explained.
"But that doesn't change the fact that people aren't having as many children as they say they want, especially at earlier ages. It may be that they're going to have those kids when they're 35, but maybe they won't."
"As they age, they may be realizing how hard it is to have kids and raise kids in the United States, and they're saying they only want to have the one child, and don't want a second one," she said.
If we want to avoid a low U.S. birth rate, the solution is fairly obvious — though not particularly simple. "We need to make it easier for people to have the children that they want to have," Hayford said. "There are clear barriers to having children in the United States that revolve around economics, around child care, around health insurance."
So how can we make America a more family-growth-friendly place? In short, expand the social safety net. This is obviously a big task with a wish list that many people have spent careers fighting for. What's that list look like? Here are 5 areas.
A Wish List For Expecting American Parents